News Brief
NYT Loves Broad Generalizations about Canadians
A round-up of the Times' worst Canadian coverage
All of Canadian media is probably guilty of trying to get the attention of our southern neighbours once in awhile. We have a tendency to present ourselves to the US with the same energy of a little brother desperately trying to show an older, cooler sibling our latest rock collection. 
Still, since the pandemic, there have been some particularly ridiculous broad generalizations by The New York Times Canada bureau. This sort of coverage gives Canadians a glimpse of what it is like to be covered as a foreign country. 
So here's a few times that the NYT decided to feature Canada in a way that made the majority of the country roll their eyes. 

This week in particular we learned that although we are generally known as polite and respectful, when it comes to the pandemic we are apparently nasty little snitches desperate to shame people into obedience. 
"Canadians might be known internationally as nice, apologetic and fair-minded. But, a year after the pandemic arrived, some Canadians worry it has exposed a very different national persona: judgmental, suspicious and vengeful. Covid-shaming has become fervent in parts of the country, with locals calling for the heads of not just politicians and doctors breaking the rules but their own family members and neighbors."
The situation she uses to highlight our apparent behaviour is a man named Cortand Cronk, who made Canadian news last October when he flouted COVID-19 travel advisories, tested positive for COVID-19 and then apparently reached out to the CBC to say that people were complaining about him. 
She then goes on to reference unnamed, unquoted Canadians who want to have the names of people infected with COVID broadcast on the news. 
Kamala-mania in Canada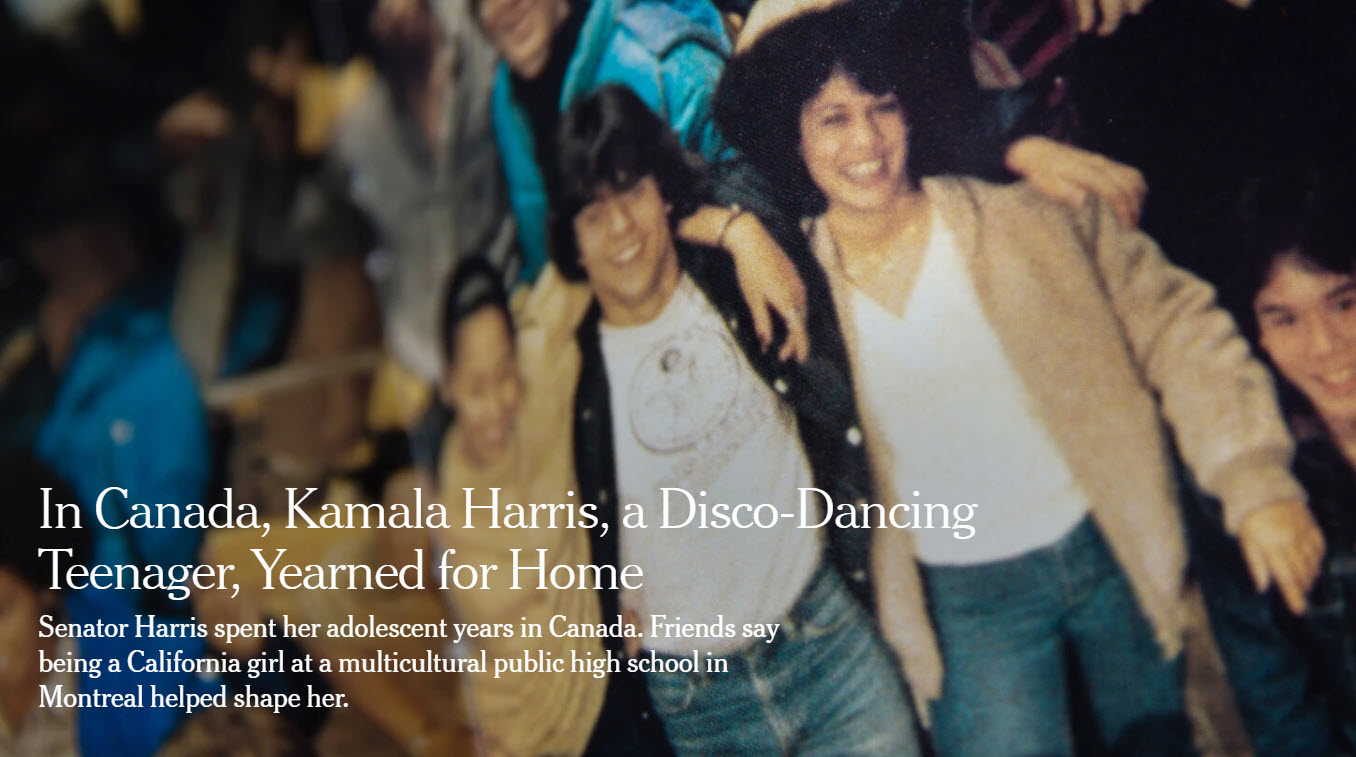 In an attempt to so brazenly force the Canadianization of a subject that CRTC would be proud, Dan Bilefsky waxes nostalgic about Vice President Harris' time in a Montreal public school:
"The future senator spent her formative adolescent years in a multicultural environment typical of many Canadian public schools. As she makes history as the first woman of color on a presidential ticket, Canadians have claimed her as a native daughter, seeing her as an embodiment of the country's progressive politics."
Bilefsky goes on to call a majority black neighbourhood, Little Burgundy, "The Harlem of the North", and while there are some references in print, it's not common parlance in Montreal. Rather it seems like a tired characterization of any black community. 
Canadians Calling the Legalization of Cannabis C-Day (we weren't)
It is not clear who Porter is talking to in Canada, but we really weren't calling the official legalization of cannabis in Canada C-Day. 
Watching our Prime Minister's hair grow is a national pastime

Here, Porter declared that in Canada Prime Minister Justin Trudeau's hair has, "long been a subject of fascination, ridicule and adulation in Canada." As though we all had nothing better to do in the middle of a pandemic than watch Trudeau become progressively more unkempt. While it is true that his hair was featured by both the Trudeau campaign and the Conservative Party of Canada's opposition ads, during COVID-19 thinking about the Prime Minister's hair was not how many of us spent our time.

While many of the other selections on the list are inconsequential, this one is not. Porter reported on what her sources referred to as "poverty porn" in Iqaluit, the capital city of Nunavut. Her coverage left her sources feeling upset and betrayed. 
The NYT piece begins with Ooloosie Saila "cowering in fear" as a "relative who was drunk and raging – again" was in the next room. 
APTN wrote a reaction piece to Porter's story with an interview of one of the main subjects of the story who says she didn't feel that she story portrayed her accurately or fairly. Salia tells APTN, "I didn't want the drunk part on the newspapers, but it was on the newspapers, and about the poverty, saying that my family are poor or something. I'm not poor, I didn't even say anything about poverty, but she put it on the newspapers."