A weekly panellist on Radio-Canada Acadie's drive-home radio show, L'heure de pointe Acadie, has been fired for trying to correct misinformation published by the French-language public broadcaster.
Pascal Raiche-Nogue is the Public Affairs Bureau Chief with the francophone daily, L'Acadie Nouvelle, based in Caraquet, New Brunswick.
For the past two years, part of his Friday afternoon ritual involved getting behind the mic to dissect the week's news on a round table segment of L'heure de pointe Acadie, which is broadcast throughout Atlantic Canada. But on Nov. 5, Raiche-Nogue received a phone call from Philippe Ricard, Director of Information with Radio-Canada Acadie, advising him that their collaboration — a paid gig for Raiche-Nogue — was being abruptly put to an end.
Raiche-Nogue said Radio-Canada Acadie's senior management did not react well to an online article he had written for L'Acadie Nouvelle, two days previous. His article rectified factual errors that Radio-Canada made about the final liquidation of assets of Co-op Atlantic, a Maritime company that has gone into bankruptcy protection.
"Co-op Atlantic won't exist anymore next week," ran the headline of an "exclusive" story that appeared on Radio-Canada's website. The article said "within a week, all of the co-op's assets will be liquidated and sold," and "next week, all that is left of this institution will be liquidated – that is the furniture and the remaining assets of this institution [sic]."
On the afternoon of Nov. 3, this same information was repeated over the airwaves on L'heure de pointe Acadie.
Raiche-Nogue was puzzled.
His understanding was that Co-op Atlantic was indeed on its last legs, but its death would drag on until the new year.
"I thought to myself, 'Ah, maybe there's a new development that I missed,'" he told CANADALAND. "Maybe everything really is going to end next week."
He immediately phoned Mike Randall, a Co-op Atlantic spokesperson, seeking clarification.
Randall refuted Radio-Canada's account, assuring Raiche-Nogue the company would still exist the following week, albeit as a shadow of its former self, and the slow and complex process of liquidation would continue into 2016.
To be sure, an auction house by the name of Woody's Auctions Ltd. has begun liquidating Co-op Atlantic warehouse equipment and machinery, as well as office furniture from two floors of the company's head office in Moncton. But a staff of roughly 35 employees – and their furniture – remain in the building to help oversee the transition process.
And as of the week of Nov. 9, referred to by Radio-Canada, many loose ends remained.
Compensation for Co-op Atlantic's unsecured creditors, for instance, had yet to be obtained. The company had also updated its cash flow forecast through to January 29, 2016. "We're talking about a huge company being dismantled, not the sale of car," said Raiche-Nogue.
After speaking with Randall, Raiche-Nogue typed up a short article which appeared on L'Acadie Nouvelle's website.
"My intention was never to drag Radio-Canada in the mud," said Raiche-Nogue, who has family and friends who work for the broadcaster. "It was simply to clarify certain facts."
On the afternoon of Nov. 3, some changes were made to Radio-Canada's online story to better reflect the facts of Co-op Atlantic's liquidation. The lede's "exclusive" tag also disappeared and the headline was modified.
When Raiche-Nogue saw this, he added a paragraph at the foot of his own story, updating his readers.
The following evening, while he was still at work, Raiche-Nogue got a phone call from Denise Pelletier, L'heure de pointe Acadie's producer. According to him, Pelletier wanted to know if he intended to bring up the Co-op Atlantic file on the program that Friday.
"I told her no," he said. "We then discussed it at length. We didn't agree on certain things. I could tell that the text I had published on L'Acadie Nouvelle's website had displeased them. But at that point, there wasn't talk of putting an end to my collaboration on the show."
Later that evening, Raiche-Nogue felt the need to write Pelletier an email:
"Good evening Denise,
Thank you for having taken the time to call and chat. This is the kind of thing that can quickly poison relationships between colleagues/competitors if it isn't dealt with."
He wrote that his article could have been more forceful in underlining the "fact that Radio-Canada had not only reported false information, but also presented it as exclusive information."
"I held back," he wrote.
It remains unclear who exactly at Radio-Canada made the decision to fire Raiche-Nogue from L'heure de pointe Acadie. It was Philippe Ricard, however, who relayed the message to him by telephone, the next day.
"I was surprised," admitted Raiche-Nogue, who considers his dismissal "excessive."
"I wasn't expecting it."
The following day, he took to Facebook to explain the situation.
Part of his translated post:
"Journalists spend their time calling for accountability and pointing their lens at society," his post reads. "I continue to believe that with this great power comes great responsibility. One must sometimes accept to turn the camera around, and accept criticism and correction."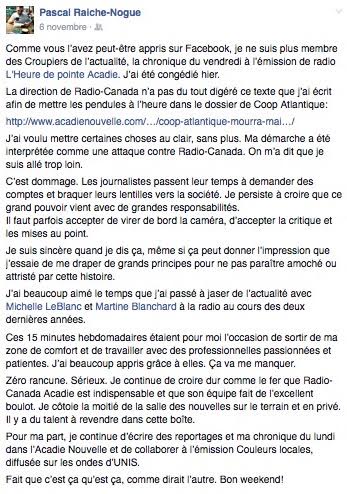 "I thought that we'd be able to have a dialogue among media, and be open to rectification," he said. "Things didn't happen that way. It's too bad."
Philippe Ricard declined to comment for this story, as did Radio-Canada Acadie's Director, Richard Simoens. Radio-Canada's journalist, Sophie Désautels, initially accepted our request for interview, before declining comment as well. Denise Pelletier suggested we speak with Philippe Ricard.
***
DISCLOSURE: Paul Ruban is on contract with the French-language current affairs magazine show, Couleurs locales (Unis TV), for which Pascal Raiche-Nogue is a regular contributor. Both are CANADALAND Patrons.