Article
Globe Admits Diamond Mine-Funded Story On Diamond Mine Lacked Balance
Reporter posts Instagram pic of gift from affiliated jewellery shop
The diamond mining giant De Beers paid for a Globe and Mail reporter to visit its Victor mine, arranged the details of her trip, and ended up with a glowing article about them in the newspaper that failed to quote any of the mine's many critics in the community, whose protests halted the project's expansion.  

The article, "Diamond mines give economic sparkle to Canada's North," resulted in a reader complaint to Sylvia Stead, the Globe's public editor. Stead's review concluded that the piece "lacked balance".
The story's author, Deirdre Kelly, has not responded to CANADALAND's questions about a recent picture on her Instagram account that seems to display a gift she received from Birks, a jewellery retailer who initially (but not presently) sold Victor mine diamonds. We will update this post if she answers us.
The Victor mine is located not far from the troubled Attawapiskat reserve in northern Ontario. The Indigenous community and environmentalist groups have been vocal in opposition to the expansion of the mine into a nearby diamond deposit, but none were spoken to for the piece, which only quoted De Beers employees.
Readers who made it to the end of the story were told the trip was arranged and paid for by a subsidiary of De Beers called Forevermark. The article was produced by the Globe's "custom content group," which produces editorial content specifically to accompany advertisements, it was labeled as an advertorial in a brief note at the very end of the story.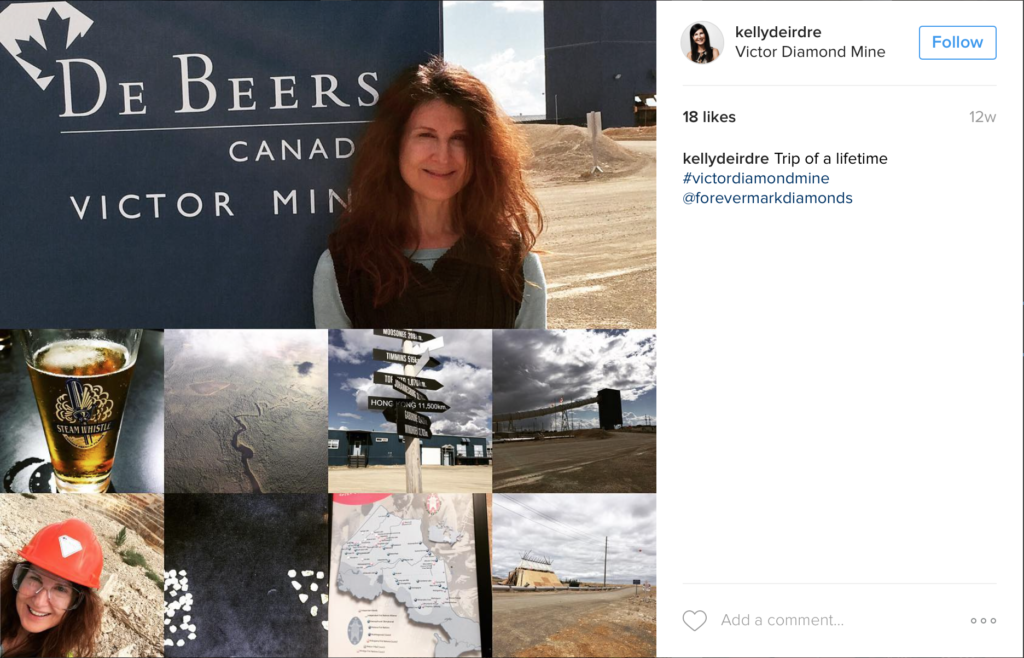 Reporter Kelly is a long-time arts critic and columnist for the paper's Style section. She was the reporter on scene when the first diamonds mined at Victor were sold to the public in 2010 at a Birks jewellers in Toronto.
The apparent gift from Birks to Kelly, which came years after she had initially and positively covered them, is not mentioned in Sylvia Stead's review of the Victor mine article. In her Instagram post about the gift, Kelly writes "You can't leave #montreal without a shiny memento from @maisonbirks merci @francisguindon ?."
Francis Guindon, the PR manager for Birks, replied "Enjoy! ?."
Kelly's piece on the Victor mine does mention the possible downsides of the mine to the community.  A study of environmental impact of diamond mining is readily dismissed by a company spokesman, with no further analysis by the reporter.
A study by the Canadian Parks and Wilderness Society's Wildlands League, released last December, claims that Victor poses a threat to aquatic life by contributing to the creation of methylmercury, a neurotoxin that accumulates in fish and other food sources of the people who live in the area.

De Beers denies the allegations. Over the past 10 years it has had five universities and research groups visit the mine and carry out studies into water, peatland rehabilitation and caribou migration and management. "We sample 300 water bodies a year," [De Beers Canada spokesman Tom Ormsby] says.
Sean Stanleigh, who runs the Globe's custom content group, told Stead that "interviews did not take place prior to publication. As a result, the story did not meet the Globe's standards for balance, and it should have been held until those comments were secured. At the very least the attempt to reach other parties for comment should have been noted in the story."
Yet it seems Kelly had months of time to obtain an additional viewpoint.
On Aug. 17, Kelly posted a photo collage of her trip to the Victor mine, calling it the "trip of a lifetime." Her piece ran several months later, on Nov. 2. When she covered the launch party for the Victor diamonds at the Toronto Birks outlet in 2010, Kelly was able to find an expert able to speak to the effect of large-scale diamond mining within a week:
"There are always concerns with large-scale developments, especially in pristine areas," said Kim Poole, a Nelson, B.C.-based wildlife biologist who works as an independent contractor.

Although his experience is limited to diamond exploration in the Northwest Territories, he said it's inevitable that Northern Ontario's environment will be affected in some way. "You can't put a mine like that into an area and expect nothing to happen," he noted. "It's just a question of degree."
Kelly also has a previous reporting relationship with the Birks PR manager, Guindon. She's been to his house. In 2014, she went to the home of Guindon and his partner Hugo Thibault to profile their living room for her "My Favourite Room" column.
Questions to Guindon about whether the Birks box posted about by Kelly was a gift, and what it contained received no reply. But, if we hear back we'll update our story.
Kelly's editor on the piece Stanleigh declined to answer further questions from CANADALAND. He said, "The blog from our public editor is my on-the-record take on this situation." A further request asking whether he was aware of the Birks box and if he had any comment received no reply.
In an interview with a PR company blog five years ago, Deirdre Kelly said the following:
"I dislike very much the idea that a journalist is merely an adjunct to someone's publicity or marketing department."
***