This year, I was accepted to the Polaris Music Prize jury. It didn't go well.
Instead of discussing music and artists, I faced a hostile, boys' club atmosphere. Discussions about music were a distant second to bullying and overblown egos.
The Polaris jury is filled with the most prominent Canadian music journalists, producers, and broadcasters in Canada. The deliberation process should be picking out music and arguing for our favourite albums. It wasn't.
In my time contributing to the Google threads, I experienced:
Loudmouth "high-profile," "influential" big egos that dominated the conversation and shut down dissenting and marginal voices. Grant Lawrence was a problem. He had a habit of using mockery to undermine and silence jurors, me included, and dismissing it as joking around.
A pile-on response to concerns about participation, minority contribution, and controversial band names.
A similarly negative response when certain genres of music were brought up, contributing to a mob mentality around the indie rock music preference.
I was chosen to help shape the long list, from which the $50,000 winner will soon be chosen, because in my work with the Weird Canada arts organization and CFUV 101.9FM I've represented marginalized music communities. I hoped to put that experience to good use with Polaris, but things were rocky from the start.
In March, I was accepted into the jury and joined in the online discussion. It was not good.
Viet Cong
Viet Cong is a post-punk band from Calgary comprised of four white men.
But the Việt cộng was a communist military force that launched campaigns of targeted attacks on urban centers during the Vietnam War, resulting in thousands of civilian murders.
This is akin to a band calling themselves The Residential School Teachers and expecting First Nations peoples to give them a pass because they're "ironic." It's offensive, it's a problem, and it's relevant when discussing whether or not to honour this band.
The Polaris-nominated Calgary band has already seen some controversy over their offensive choice of name and have received criticism from the music and Vietnamese-Canadian communities because of their name, resulting in a concert cancellation.
Promoting and celebrating a band whose name is hurtful to large communities is a reckless use of my position as a juror and awarding this band $50,000 is even worse. I posted on the forum that I'd feel sick if this was the Polaris album of the year.
Immediately there was resistance from my fellow jurist Trevor Risk, complaining about the "annual argument" of taking social elements into consideration.
Another jurist, Patrick Baillargeon, compared my argument to perceived government censorship of the band Holy Fuck, for their name.
Steve Jordan, Polaris's founder and Executive Director, actually had to remind the group that it was OK to take issue with lyrics.
The CBC's Grant Lawrence was among my critics:

I was labelled a "SJW"  (Social Justice Warrior) and dismissed on the grounds that I wasn't listening to the record "loud enough."
Boys Club Fails To Realize It's Actually a Boys Club
There are 196 Polaris jurors but the vast number of them never say anything because a few personalities hog the oxygen.
I wasn't alone in this view. Here's fellow jurist Alexandra Rimmington:


Liisa Ladouceur, freelance journalist, long-time Polaris juror, and previous Polaris Board of Directors member chimed in on the issue, which she has written about previously.

Polaris Founder Steve Jordan confirmed that the award has always had a problem with loud voices dominating the conversation and "intimidating" others.

Jurist Alexandra Rimmington asked what Polaris has been doing to improve participation, but was met with contempt from fellow jurists who demanded that she submit music nominations. She responded by explaining that it did not feel like a welcoming environment to discuss music.
Grant Lawrence dismissed Alexandra's concerns. He rattled off the names of various female jurors as evidence against a boys club environment.


Genre Cops
The next plight of the indie rock brigade was after musician B.A. Johnston made the Top 40 Long List. Some jurors couldn't believe he got votes because they couldn't connect with the comical style of his songs.
For my music community this was a victory. It even sparked a social media campaign (#shortlistBA). Some jurors were optimistic.

But the cordiality didn't last long.


I defended Johnson but some in the jury never missed an opportunity to play the "journalist" card to undermine others through language corrections.
Grant Lawrence pounced on my grammar error: I mixed up who's and whose.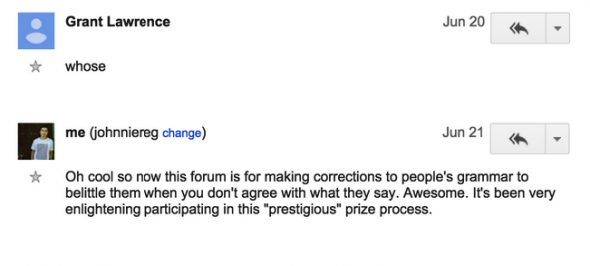 This kind of shit kept happening.

The Aftermath
After the lists were decided and the jurists' job was done (the Grand Jury decides on the final winner) Polaris management asked for my thoughts on the problems with the jury.
I shared the issues I saw with the process. Beyond the toxic culture of the discussion, I think the fact that so many jurors come from music media outlets like CBC and Exclaim! skew the results to a white, male, Toronto indie-rock sensibility.
For my troubles, I got this hostile response from Exclaim!'s editor, James Keast, who oversees the jury:
"You feel like people from the CBC and Exclaim! don't have diverse enough tastes? In other words "The 40 albums on the long list aren't what I would pick, please make the jury so that 40 albums I like are the long list." I don't know how anyone can look at a Polaris long list — with any realistic perspective of what's actually happening in the music industry as a whole — and say that there is a diversity problem."
The Polaris Prize winner will be announced on September 21 at a CBC sponsored gala. Viet Cong made the short list of 11 acts. BA Johnson didn't. Seven of the 10 acts nominated could be accurately described as white, indie rock acts.
I have no idea if I'll be asked back on the Polaris Jury after writing this, and I'm not sure I want to be.
Disclaimer: Johnnie Regalado is a CANADALAND Patron