Today is Bell Let's Talk day, a corporate initiative from the Canadian telecommunications company to talk about mental illness. I worked at Bell and faced the same issues they're trying to shed light on.
The multimedia campaign features celebrities like Olympian Clara Hughes and comedian Mary Walsh, with photos and videos of them tweeting, texting, and talking about their own experiences with mental illness. Bell has pledged to make a five-cent donation through each use of their hashtag, share of the Facebook image about the campaign and any text message, mobile or long distance call made by Bell customers on January 27.
Advertisements, billboards and commercials feature quotes like, "If we cared about our mental health like we cared about our dental health, we would be okay," from Howie Mandel, the actor, game show host and creator of the beloved children's show Bobby's World. Broadcaster Michael Landsberg, who has spoken extensively about mental illness, is quoted as saying, "We should avoid using any language that makes people feel a little bit weaker. It keeps them from getting the help they need."
I worked at Bell, in their media division. I needed help after working there. The terms of my job meant I was lucky I was able to access it at all.
Bell Media operates television channels like CTV, TSN and BNN, 106 radio stations, more than 200 websites and an advertising arm spanning five provinces. It was also where I learned not everyone working to raise awareness about mental health could get the resources Bell says it's helping fund and destigmatize.
In 2014, I was hired as a broadcast associate at the specialty television channel Business News Network, also known as BNN. I was officially a freelance employee, paid $15.25 an hour, with no sick days, vacation days, or benefits. As a permalancer, I worked 40 hours per week. Duties included grabbing coffee and water for guests, putting them on set, cutting tape, screening calls, and memorizing hundreds of stock tickers for on-screen charts and graphs. It was an extremely fast-paced, entry-level job and it meant I earned just over $30,000 a year. I thought it would be the start of a great career in multimedia. I was wrong.
The stress level of that position rose to the point where I broke fillings after day-grinding my teeth, a regular twitch started in my right eye and I developed hives for the first time. (I thought they were bed bug bites.) I rarely went through days without a clenching feeling in my chest, or the sentiment I was a complete failure at my job. The margin for error seemed enormously high. I was told I laughed too much, to stop trying to chase produce and if I wanted to write anything for the channel's website it would have to be on my own time and unpaid.
My contract did not grant me access to Bell Media's Employee Assistance Plan, meaning I had no access to mental health care through Bell. Luckily, my executive producer was able to grant me special permission. I'm grateful to her, but critical of Bell. What if I didn't feel comfortable telling my boss I was suffering? Mentioning her name was the only way I could access both counselling services by phone and then in-person as a contract staffer.
What frustrated me most about being inside the company was knowing that my work situation wasn't unique. I knew other BNN contractors who were deeply involved in producing Bell Let's Talk programming, but who also did not have health benefits, including mental health care, because they were contract workers.
This seems to be a trend both at Bell and in the media industry. Bell hasn't confirmed the health care terms for its contractors, but those we reached out to said they couldn't access the Employee Assistance Plan because they weren't permanent staff. We asked how many of Bell's employees are contract workers and Bell declined to provide that number.
This is a part of the agreement a Bell employee signed in 2015, an improvement on what I was offered: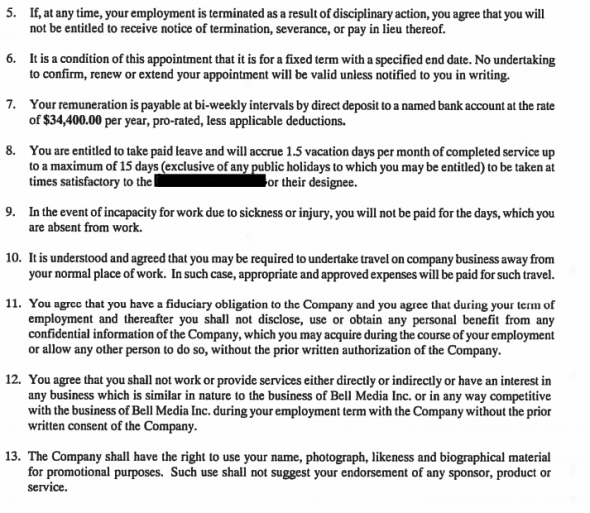 Let's be clear: the concept of raising awareness, reducing the stigma and giving millions of dollars to mental health initiatives is great and important. The campaign's chair, Mary Deacon, has publicly come out with her family's loss of two brothers to suicide, her own battle with depression and her years of work at Toronto's Centre for Addiction and Mental Health. In 2013, Deacon told the Globe and Mail, the company had committed to investing $50 million over five years and the number had grown to due to Let's Talk day.
What isn't so great is how Bell's failure to acknowledge how it participates in the systemic problems affecting the mental health of its own staff. If I needed to take a sick day for a cold or a panic attack, I would lose a day's pay. No benefits meant those dental fillings were $450. I desperately needed a break, but was never sure I could afford it, despite continuing to try to live like a poor student years after finishing university.
The work environment I experienced working at Bell Media is like many offices and newsrooms across the country. Young people, women and people of colour are told they need to suffer the indignities of entry-level positions to "pay their dues," crying takes place in washrooms or in cars, and low pay with no benefits is often accepted as the cost of entry. For many, casual, contract and hourly work is a necessary stepping stone or means to pay basic bills, especially when layoffs and closures continue to mount.
Many of those who work in journalism, especially in breaking news, are exposed to horrific images, violent crimes and harassment. Long or irregular hours, heavy criticism, lack of sleep and never-ending fears about job security can trigger or exacerbate anxiety and depression. Many freelance journalists (both full-time and part-timers) need these medical services, but don't have the financial means to get them. There is a long history of people joking about how common alcoholism is in journalism. It's because of a lack of resources.
Bell has put on its website the specific research programs, community agencies, hospitals, universities and other organizations supported through its grants. Bell has also raised its funding commitment to $100 million. This money matters and makes a difference, especially in smaller communities or parts of Northern Canada.
I just wish they would send some of that funding and change towards their own people too.
CORRECTION: An earlier version of this article said the contract terms for the writer's BNN position changed soon after she left. In fact, the terms of the position are largely the same. There is still no vacation time for that job but there was a small bump in the hourly pay.
***
I think you should be getting our newsletter
Get a weekly note about our top stories.
This is a good thing that we do. You'll like this.