Kieran Delamont is a freelance writer and photographer who covers cannabis industry news and social issues. In the summer of 2019, Delamont was approached by an editor of Now Magazine, an alternative weekly in Toronto, to produce a series of articles about the fast-growing cannabis industry for their partner site, CannCentral.com. Delamont had been freelancing on and off for Now since 2016, mostly writing about the cannabis industry. The job seemed like a natural fit for Delamont, and the pay was good. Delamont was paid on a weekly basis to produce a stream of content, mostly short articles below 350 words, which would populate the CannCentral.com site.
Everything was going well for a few months. Delamont enjoyed steady work in a niche reporting beat and working with his editor, Enzo DiMatteo. In mid-November, Delamont sent two invoices as usual, for work done in the weeks of late October and early November. He didn't think much of it, as he had been paid regularly for invoices he had submitted previously.
He continued writing several articles weekly and delivering them to DiMatteo. In February 2020, Delamont realized he hadn't seen a paycheque in a while and decided to pause his work until his invoices were paid. He says he was owed almost $10,000 by then.
A few months prior, in December, it was announced in a press release that Now had been acquired by a corporation called Media Central on November 29, 2019. It was during this period that other freelancers, who contributed to the magazine around November 2019, say they had difficulties obtaining payment for work they completed.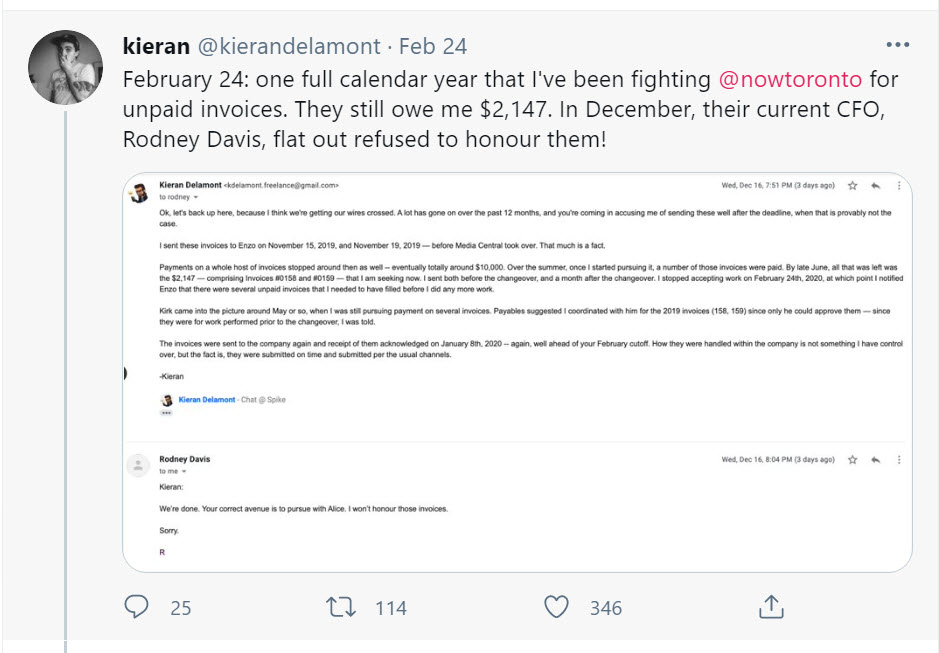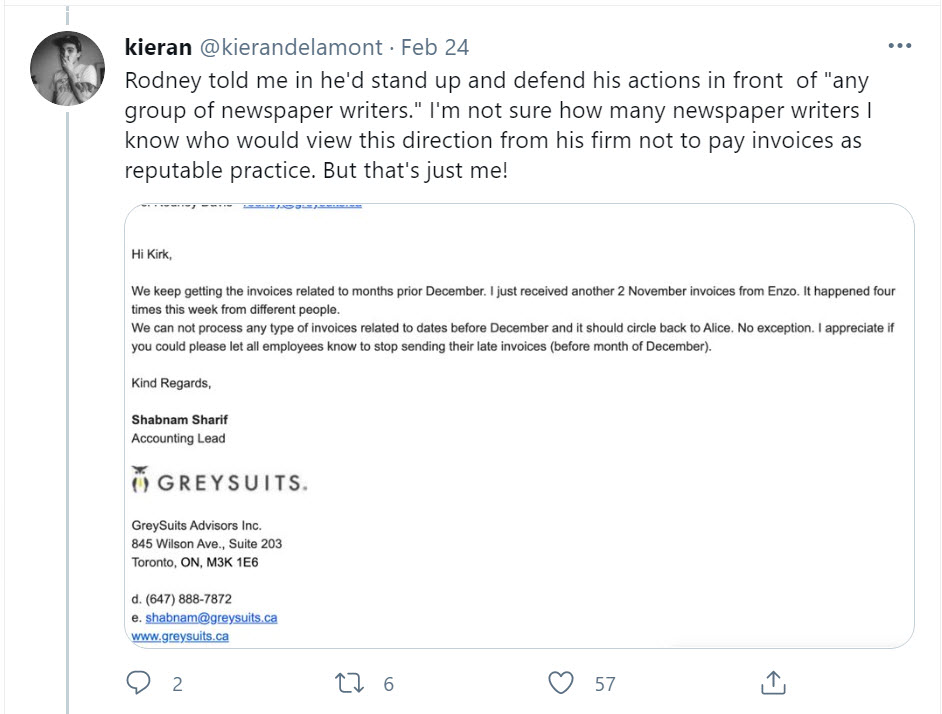 On June 15, 2020, Samantha Lui, a Toronto writer who was then freelance, sent out a tweet saying that she sent an invoice on November 25, 2019, after her article appeared on the Now site, but eight months afterward had yet to be paid.
Lui emailed her contact at Now to follow up on the unpaid invoice and was referred to the accounting department. She received an email from an accounting firm saying: "It is 100% against law to withdraw money from current company for work done in old company [sic]."
The email told her to follow up with Alice Klein, the co-founder and former owner of Now. 
After a few back-and-forth emails, Lui's editor, Enzo DiMatteo, paid her out of his own pocket, saying it was "silly" to argue over $100. When reached out to for comment, DiMatteo says he forwarded the questions to Kirk MacDonald and Rodney Davis, president and CFO of Media Central, respectively.
Delamont says that by late June of 2020, he was finally paid for most of his invoices but as of February 2021 was still waiting on $2,147 for work completed in the fall of 2019, before Media Central's acquisition of Now. 
Delamont received a similar message to Lui in December 2020 from Media Central CFO Rodney Davis, saying that Klein's company, Now Communications Inc., was responsible for invoices predating the sale to Media Central. He wrote: "Reach out to Alice and see if she will honour it." 
When asked for comment for this story, Davis said, "I don't comment on stories. Not my role. Apologies."
"Unless for some reason they have an obligation to make the purchase agreement public, you wouldn't really know," Allan Colquhoun, a merger and acquisitions lawyer at Elan Techlaw, a boutique agency, says of the party or parties responsible for unpaid invoices prior to the sale.
He adds that the seller of a company is still responsible for unpaid invoices unless the contractor agrees to be paid by the buyer; or if the seller's contract with the contractor gives them the right to be released from paying the invoices. However, the seller can assign the debts to a buyer without consent from the contractor, but they are ultimately still responsible for paying a valid invoice.
According to a Media Central press release on December 3, 2019, the company signed a Definitive Asset Purchase Agreement and no debt was assumed. 
It is possible to buy a business without assuming the debt or liabilities of the business. 
There are two ways to buy a business, Colquhoun says. One way is to buy the shares of the company or the business outright. The other way is to buy only the assets of the business. In a share purchase, all of the liabilities and contracts are also included in the share purchase. But in an asset purchase transaction, Colquhoun says, "the buyer will say, 'here are the assets that I want to buy from you.' And they might take on some of the debt, or some of the contracts. They get to sort of pick and choose and negotiate with the seller, about what those assets and liabilities are."
In October 2020, after a year of emailing back and forth with the team at Media Central and seeming to get nowhere with his unpaid invoices, Delamont says he filed a claim and served papers to Media Central's Vaughan office and also to Now's office. He says he also filed to seek a default judgment, which costs $89, since the other party did not file a statement of defense. He hired a process server to do a rush job for $175. However, he says the attempt to sue them failed. The court didn't recognize the papers as successfully served.
To collect owed payments, Colquhoun says while he recommends contractors to reach out to a contact at the company to try to collect payment, he says it may not be worth it to go into the litigation process. 
"I always encourage my clients to try to avoid litigation because it tends to be expensive and slow," he says. "If you can figure out a business solution that the parties can agree to before you get there, that tends to be better." 
Monica Goyal, a business lawyer with Caravel Law in Toronto, says she wouldn't bother to chase down $2,000 because of all of the fees associated with going to court. For professional representation to go to court, she says costs can run from $5,000-$10,000. And even if you win in court, she says it's difficult to enforce a judgment. "It will be hard because you know you have to track down some assets. If the company is no longer operating, they're not going to have revenue coming in. They might have closed a bank account. So it would be hard to recover money because they had no assets in the company." 
It's a bleak outlook for freelancers in Canada as there are currently no strong protections for them. So what can they do to limit their vulnerabilities and ensure they get paid? Goyal says even if someone has been working with a company for a while and there is a credit history, they should stay on top of their invoices and be proactive if they don't see payment when they expect it. "Especially in the environment that we're in," she says. "You never know [if someone that you're working with is] going through some financial struggles."
"There's been a number of businesses that have filed for bankruptcy protection, like we can see that in the US, right, especially. So you have to be careful," Goyal says, when agreeing to take on work from certain companies.
Some advice for the extra diligent: Goyal says, "There are credit reports you can run on businesses, which sometimes lets you know if there are credit issues with the company. You can sometimes find some information through online searches. But it usually is difficult to know in advance."
Delamont was initially hesitant to reach out to Klein, Now's former owner, concerned that it would mean conceding that Media Central bore no responsibility.
But more recently, he did so and found their discussions encouraging.
Another freelancer who says they are owed payment also received an email from Klein after Canadaland inquired about the missing payments. 
Klein did not respond to Canadaland's request for comment prior to publication but on Monday sent Delamont a pair of e-transfers, paying off the balance of what he was owed.
Following publication, Klein shared the message she sent to Delamont on Monday.
"I appreciate your reluctance to involve me in this dispute," she wrote, "as you rightly perceived that it is really not mine in any legal or official way. But though this situation is no fault of mine or yours, I cannot in my heart, allow this injustice to stand. The work was completed while I was still the custodian of a unique and progressive media outlet dedicated to speaking truth to power."
She added that she hoped the payment would "bring much benefit and closure."
Jessica Lee is a photojournalist and writer from Toronto. She is interested in stories about culture, lifestyle, social justice, identity, and migration. You can follow her on Twitter at @Jessicaology.
Top photo of Kieran Delamont via his website, with the background adapted from a photo by LexnGer on Flickr.
---
Correction (3/4/2021, 2:44 p.m. EST): A quote from lawyer Monica Goyal originally stated that it might be difficult to recover funds from an inactive company with a closed bank account "because they had some assets in the company." It should, instead, have said "because they had no assets in the company."
This article has also been updated and revised to reflect Klein's payment to Delamont on March 1.