Kapwani Kiwanga sends a message to Saturn. SlowPitchSound goes to Wonderland. Rajni Perera launches deities into space.
Kapwani Kiwanga is a multimedia artist born in Hamilton and based in Paris, who often incorporates archival research into her work. Here's a video about the Sun Ra Repatriation Project, her attempt to contact jazz musician Sun Ra on Saturn. Her first exhibition in Canada is going on right now at the Power Plant in Toronto.
Watch Sun Ra's movie, Space is the Place.
Rajni Perera is a Toronto-based artist whose work contains elements of science fiction, mythology and sexuality.

Here's the painting "World Eater" that she describes on the show: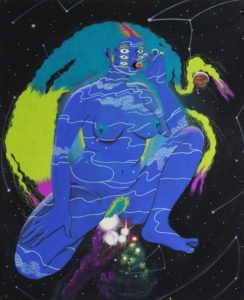 The show image is her piece, "No Pigs in Space." See more of Rajni's work on her website.
---
Music on this episode:
An excerpt from WNDRLNDED by SlowPitchSound, who calls himself a "scifi-turntablist." His new album THK SKIN is released this Friday, March 10th. Learn more about it and his other music here.
The interview with Kapwani featured clips from "Looking Outward," "Outer Nothingness" and "Nebulae" by Sun Ra.
---
We're coming to Abbotsford, BC for a FREE live show on March 18th! Get the details here.