News Brief
Tea Party Site Wrongly Identifies Canadian Woman as Stabber Citing Globe and Mail as Source
A tea party website misidentified a Canadian woman as a girl accused of a mass stabbing, citing the Globe and Mail as a source.
A tea party website misidentified a Canadian woman as a girl accused of a mass stabbing, citing the Globe and Mail as a source.
Selena Ross, a Globe and Mail reporter, published an article about the stabbing at a Pickering, Ont. high school. One of her sources was Zahra Vaid, the sister of one of the students. Vaid's name appeared next to a sentence about the 14-year-old girl accused of the crime. While Vaid was not involved with the stabbing in any way, Jim Hoft a blogger running a website called Gateway Pundit, seized on the juxtaposition and wrote a post titled, "Canadian Muslim Girl Goes on Mass Stabbing Spree – 8 Injured=> Authorities Baffled on Motive Behind Attack."
Here's the original wording of the Globe and Mail piece: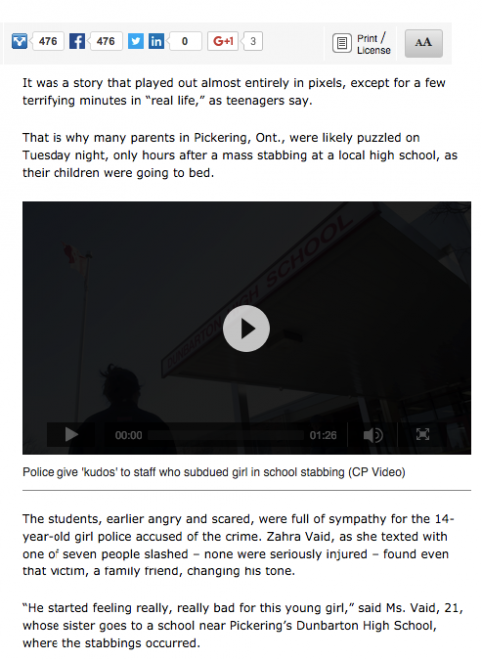 The article went on to name Vaid as the accused — something that would be illegal in Canada even if it were accurate because the girl is under 18. "Police accused 14-year-old girl Zahra Vaid of the crime," read the false post.
Here's a screenshot of the story, provided by Vaid: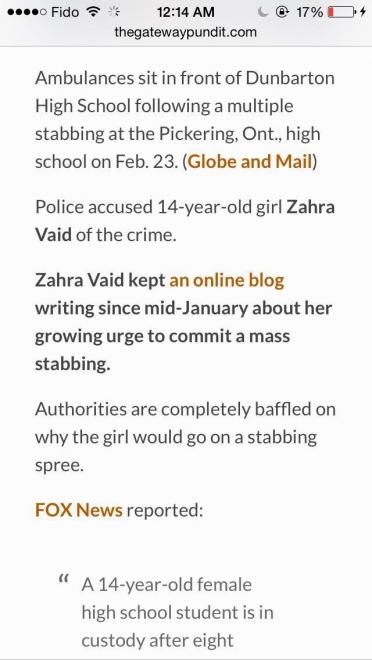 When she saw Gateway Pundit's post, the 21-year-old university student immediately sprung into action. Vaid got in touch with both journalists and wrote a lengthy Facebook post explaining the false accusation and the impact it had on her. The post has since been removed by Facebook because it "violated community guidelines" but she reposted the original message.
Vaid said Ross responded to her emails this morning but didn't acknowledge the "grammatical error, misuse of information" and "misrepresentation" in the Globe and Mail piece. Ross said she didn't have the power to make a change in her story after it was published, but the Globe's public editor Sylvia Stead has since agreed to make a change in wording to avoid the awkward juxtaposition.
Here's the new wording: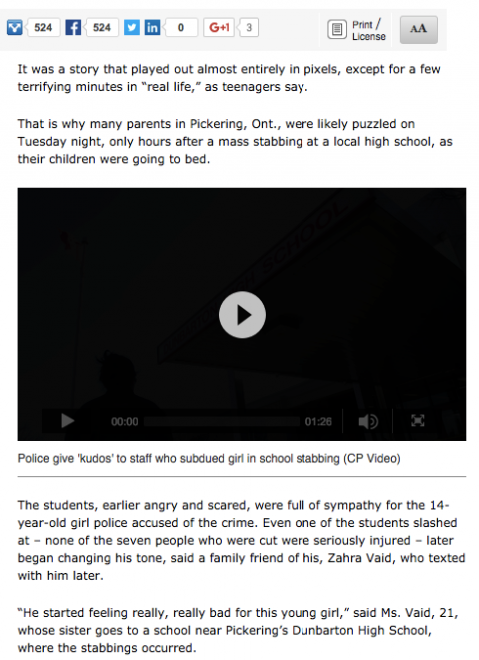 Ross said they didn't run a clarification because she doesn't think there was anything technically wrong in the Globe and Mail story, but she's glad Stead decided to update the wording. "Tens of thousands of people read that story and this one guy decided that was how he read it," she said. "I think anybody with the most basic reading comprehension would read those series of paragraphs and it's crystal clear."
"I just feel terrible as a reporter," Ross said. "She was so articulate and did a great job as a voice in my story. The last way you want someone to be repaid for all that work they do for you is to have this kind of awful experience." But Vaid said she's happy with the Globe's "thoughtful" response.
The Gateway Pundit also changed the story since it was originally posted but did not issue a correction or an apology. "It's like they didn't even read through the other article fully," Vaid said about the original story. Ironically, author Jim Hoft has received a media accuracy award alongside Catherine Herridge, a Fox News correspondent.
Vaid thinks a combination of her writing to the author and the outpouring of support from her original Facebook post — which had over 1,000 shares before it was removed — are why the change was made. Some of the supporters who reached out to her are lawyers. She's not happy with the Gateway Pundit's treatment of the situation and said she's getting legal advice "to decide on further action." We've reached out to the Gateway Pundit for comment and will update the story if they get back to us.
Vaid is shaken up about the situation. She said she's scared of the impact this could potentially have on her life. She is in the final year of her program and is thinking about graduate and law schools. It's also going to be front-of-mind when she travels, she said, because her name is associated with being falsely accused. She now has to deal with deeply Islamophobic comments from the Gateway Pundit's story and worries about the changed narrative.
"I don't want to take the attention off of someone who actually needed help," she said about the 14-year-old suspect whose online posts sparked a lot of empathy from the community. "This situation could've brought a lot of awareness to mental health, and bullying and taking care of our kids. … I really don't want the whole focus to be on me. This could have taken such a different direction if Islamophobes or people who engage in hate speech didn't take this and completely alter it."
***