UPDATE: Amanda Lang has been in a relationship with an RBC Board Member since at least early 2013, including the time she was reporting on the RBC temporary foreign worker scandal.
SECOND UPDATE: CBC's Kathy Tomlinson speaks to CANADALAND about Lang and the RBC scandal here.
Last month CANADALAND reported that CBC Senior Business Correspondent Amanda Lang took lucrative speaking jobs from insurance companies and then gave them positive news coverage on CBC TV.
That was nothing.
Multiple sources within CBC News have revealed to CANADALAND, under condition of anonymity, a shocking campaign Amanda Lang undertook in 2013 to sabotage a major story reported by her colleague, investigative reporter Kathy Tomlinson.
Key details of these events have been confirmed to CANADALAND by Tomlinson's spouse, Alan Fryer, a former W-FIVE reporter and Washington Bureau chief for CTV News.
Tomlinson herself declined to comment. CBC employees can be fired for responding to media requests without management's permission.
Amanda Lang did not respond to CANADALAND's request for comment.
Our investigation reveals that:
1. Amanda Lang lobbied aggressively within the CBC to undermine Kathy Tomlinson's reporting on the temporary foreign worker scandal at RBC, the largest financial institution in the country and a bank that has sponsored Lang's speeches or events where Lang spoke at least six times (1 / 2 / 3 / 4 / 5 / 6), for fees up to $15,000 per event.
2. When Lang's attack on Tomlinson's story behind the scenes failed, she tried instead to deflate it by welcoming RBC CEO Gord Nixon on to The National for a softball interview, in which he criticized the CBC's reporting and dismissed the scandal as trivial. During the interview Lang does not challenge Nixon, who just months before wrote a promotional blurb for the back cover of her book, The Power of Why.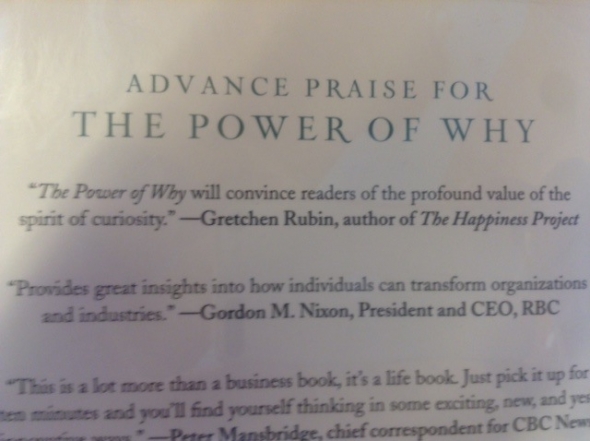 3. Amanda Lang then took her campaign to the Globe and Mail, where she penned a dismissive opinion piece defending outsourcing and making light of the abuses at the heart of the RBC scandal.  The CBC would not confirm if Lang asked for permission to do this, as she is required to.
"The sideshow about hiring temporary foreign workers is just that – a sideshow." – Amanda Lang, Globe and Mail, April 12, 2013
4. Amanda Lang then took more of RBC's money as a paid speaker, even after she was made to cancel a speaking contract with iGate, a company contracted to RBC and implicated in the RBC scandal.
As you'll read in detail below, it's just as bad as it sounds: Lang didn't just align her own journalism in the interests of a corporate sponsor. She also meddled with the work of her colleagues.
Here's how it all happened:
On April 6, 2013, eleven days after Amanda Lang spoke at an RBC-sponsored event, Kathy Tomlinson and her Go Public team exposed RBC for using an outsourcing firm to bring in temporary workers for its Canadian employees to train… in order to sack those Canadian employees and ship their jobs overseas.
It was, in time, a triumph for CBC News and its investigative journalism.
Tomlinson's story would make headlines around the country, set off a national debate about corporate abuse of labour laws, draw a direct response from the Prime Minister, prompt legislative reforms to the government's Temporary Foreign Workers Program (TFWP) and win a Gold reporting award from the Canadian Association of Journalists.
And at first, CBC News treated it as the major story it was, reporting it aggressively on all platforms.  Here's CBC host Christine Birak grilling an RBC executive on Sunday April 7, 2013 – one day after the story broke on CBC.ca. Birak is relentless, at one point telling the RBC exec that she's "not really buying" her "semantics".
The momentum continued that evening, with Kathy Tomlinson's initial report as the lead story on The National.
According to CANADALAND's sources, CBC newsrooms were readying that Monday morning to push the story hard on all platforms across the country.
In Ottawa, reporters prepared to chase the federal government for a response. In Vancouver, where Tomlinson is based, her team continued to seek RBC employees impacted by the outsourcing. In Toronto, CBC reporters readied questions to lob at RBC's Bay Street headquarters.
Then, as CBC journalists across the country pulled in information to advance the story, they were summoned to a conference call with Kathy Tomlinson and, to their surprise: Amanda Lang.
CANADALAND spoke to three CBC employees who were on the conference call with Tomlinson and Lang.
Lang, they recall, relentlessly pushed to undermine the RBC story. She argued that RBC was in the right, that their outsourcing practices were "business as usual," and that the story didn't merit significant coverage. She and a defiant Tomlinson faced off in a tense, extended argument. Two of the CBC employees we spoke to recall a wave of frustrated hang-ups by participants.
"I cannot emphasize enough how wrong it was," said one CBC employee we spoke to. "That another journalist, not involved in a story, would intervene in the reporting of others and question the integrity of her colleagues like that. I haven't seen anything like it before or since."
As another journalist recalls, "people hung up the phone and looked at each other with jaws agape. Everyone was asking 'What just happened?' We were directionless, we didn't know whether to pursue the story any further. We didn't know what was going on…"
Lang's efforts to scuttle the story were successful, at first.
A third employee present says that shortly after the call, Tomlinson was dropped from a scheduled World at Six item on the RBC scandal without explanation.
At no point on the call did Lang disclose to her colleagues her financial relationship with RBC, our sources say.
Despite Lang's efforts, the RBC story survived, due to the perseverance of Kathy Tomlinson and, CANADALAND is told, of Raj Ahluwalia, a senior producer at The National.
Raj Ahluwalia did not respond to requests for comment from CANADALAND.
Two of our sources attest to Ahluwalia's courage in facing down Lang and championing Tomlinson's reporting for the rest of the week. He marshaled follow-up reports on the scandal and worked diligently to assist CBC employees working on the story. His efforts, we are told, kept the story on The National.
Ahluwalia and Tomlinson would later win the Canadian Association of Journalists Award for Labour Reporting for their work on the story.
"Raj is a fantastic person," praises one CBC source, "an incredible colleague and a journalist of the highest principle."
But Raj Ahluwalia wasn't the only person who could get segments on The National.
Later that day, Amanda Lang booked an interview with RBC CEO Gord Nixon. A long cut of the interview aired on her afternoon show, The Lang & O'Leary Exchange.
At the 4:34 mark of the interview, Nixon attacks Tomlinson's journalism. "I know you're part of CBC," he offers, "but I think the way the story was portrayed was very unfair and misleading, in that it left Canadians with the impression that we were hiring foreign workers to come in and take the jobs of Canadians." Lang says nothing. She offers no defense for the journalism of her colleagues.
Lang's interview with Nixon ran that night on The National, with Lang describing Nixon's talking points to Peter Mansbridge in terms so awkwardly glowing that TV critic John Doyle would later write in his Globe and Mail column that the "baffling" and "inane" segment could have been mocked wildly by Jon Stewart and Stephen Colbert.
Despite Lang's best efforts to downplay the scandal, the story had legs. Tomlinson's follow-up work ran across the CBC.
So, Lang took her message away from the CBC. On April 12, she published an op-ed in the Globe and Mail, bashing the temporary foreign workers story as "a sideshow".
An outraged colleague e-mailed Lang, urging her to apologize to Tomlinson and writing "I sincerely hope you never host [The National] when I file a story". Lang's colleague who sent the e-mail provided it to CANADALAND under the condition of anonymity and offering no further comment.
RBC soon reversed itself, buying full-page national newspaper ads to run an open letter from CEO Gord Nixon. Three days earlier he had denied to a credulous Amanda Lang that any Canadians had lost their jobs. Now he was publicly apologizing to 45 sacked local workers, promising to re-hire them and to be more "sensitive". For Kathy Tomlinson, it was a complete vindication.
And what were the implications for Amanda Lang?
She lost a speaking gig.
It was revealed on the blog Creekside that Lang was scheduled to be the paid keynote speaker at an April 23 conference on outsourcing, which was sponsored by iGate, the very company at the heart of the scandal, the one that had the foreign worker contract with RBC.
Lang cancelled the keynote. According to CBC News Editor-in-Chief Jennifer McGuire, "there was the potential for at least a perceived conflict of interest."
But if iGate sponsorship was a no-no, RBC sponsorship was not. Lang delivered a paid keynote two months later to an RBC-sponsored conference in Halifax, with management's blessing.
Which begs the question, where is CBC management in all this?
Backing up their star.
While Lang would not respond to CANADALAND's request for comment, CBC answered for her. Head of public affairs Chuck Thompson had the following to say in Lang's defence.
Chuck: the conference call was "a robust journalistic debate" the kind which "occur on a regular basis inside CBC News and which we encourage".
Lang's CBC colleague:
"How does Chuck Thompson know? He wasn't on the call. And as far as I know it wasn't recorded. Nobody from PR was on the call. No one has asked me about the nature of it. No one from management was on the call. I know two other people who were on the call and they haven't been asked about it. So how does Chuck know? Who did he ask? I don't know anyone who has been asked about it."
That's CBC management's MO. Look at what happened with the whole Q thing.
It was not a regular occurence. There were two things about (Lang's  involvement with the conference call) that were weird to me, that I've never seen before as a journalist. First, the person who was asking all the questions and raising the doubts had not been involved in the story. Amanda had never been involved in the story. Usually when you have a debate like that, it's between people involved in the story.
Second, nothing seemed to affect (Lang's) position. Every question she had, Kathy would bring up a fact or evidence and none of it meant anything to her. Her position never changed. I remember Kathy providing evidence to counter Lang's one note opinion. I remember Kathy talking about all the public reaction we were getting on the story, and I remember Amanda saying that the public was wrong: that outsourcing was a good thing."
Chuck Thompson added, "we stand behind Amanda Lang as one of Canada's most respected business journalists."
Postscript
The reporting of this story has been incredibly difficult for sources involved, who have risked their careers by providing information. One key source bravely provided on-the-record comments to CANADALAND. In a matter of minutes, these comments were rescinded.
CANADALAND will continue to report on the fallout from this story as necessary.
Please send relevant information to sean@canadalandshow.com