A parody Twitter account imitating federal Environment and Climate Change Minister Catherine McKenna was banned from the social media platform Tuesday evening, after McKenna submitted a report to the site concerning the "impersonation."
"Twitter has strict rules about the difference between impersonation accounts and parody, and they apparently decided to suspend the account," McKenna, the Liberal MP for Ottawa Centre, says in a statement to CANADALAND. "The company has encouraged all users, especially elected officials and other public figures, to report any activity that violates its rules and policies — so we did and will continue to do so."
Prime Minister Justin Trudeau's principal secretary, Gerald Butts, had also tweeted at Twitter CEO Jack Dorsey, suggesting he take a look at the account.
"Elected officials of all stripes have long been the target of impersonation accounts on various social media platforms, whether they are politically motivated, run by trolls, or scam artists seeking donations," Trudeau press secretary Matt Pascuzzo says via email. "Each platform has procedures in place that any verified user — of any party — can follow when they have been impersonated. We will remain vigilant in ensuring social media companies are made aware of accounts created to impersonate MPs."
But he emphasizes that any decision as to whether an account violates a platform's terms of use is ultimately up to the platform itself.
In an email, Twitter Canada's head of communications, Cameron Gordon (no relation to the author), says the company doesn't comment on individual accounts for privacy reasons but that "This impersonation [complaint] form can be filled out by anybody and we will review against our policies and guidelines to see if a violation occurred."
In the past, Dorsey has reportedly intervened in cases when high-profile individuals have complained of others' alleged misuse of the platform.
Although the account's bio stated it was a "Parody Account" and misspelled the minister's name as "Catherinne McKennna," Twitter's policy requires parody accounts to properly distinguish themselves from a real person: "The account name (note: this is separate from the username, or @handle) should not be the exact name as the subject of the account without some other distinguishing word, such as (but not limited to) 'not,' 'fake,' or 'fan,' and be done so in a way that would be understood by the intended audience."
Former Dragon's Den personality and Calgary businessman W. Brett Wilson — a vehement critic of the Trudeau government — mistook one of the account's tweets as real, a celebration of a made-up "week of the beaver," that purposefully misused a picture of a muskrat.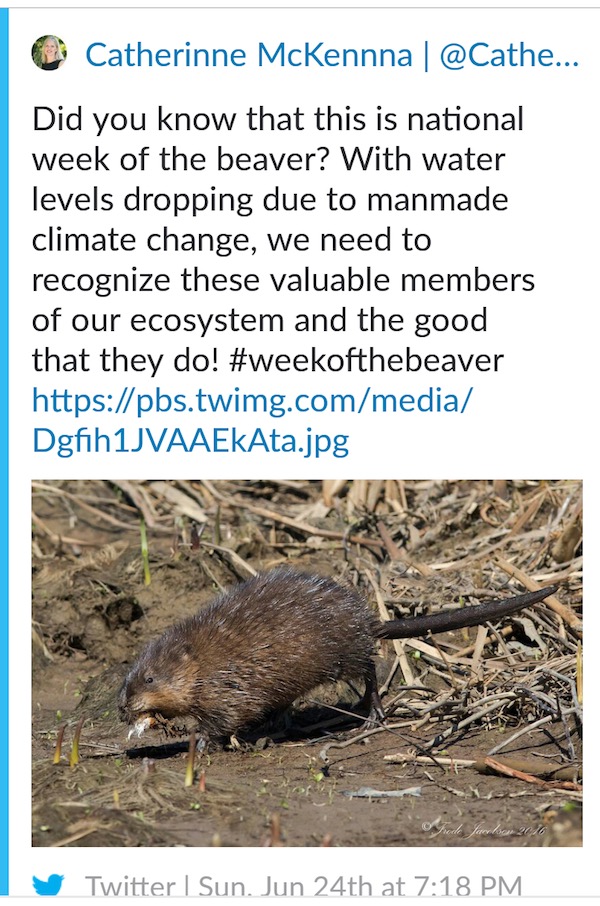 Wilson quoted the tweet, saying in part, "Who writes your tweets Minister? How do you find someone this incompetent (aka stupid)???"
(In the past, the real McKenna's Twitter account has made several gaffes, including tweeting a picture of a puffin for World Penguin Day, sharing a picture of a bike with a flat tire in a tweet encouraging mail delivery by bicycle, and a tweet praising Syria's Assad regime for joining the Paris Climate Accord.)
The parody account began a feeding frenzy of anonymous conservative trolls joining in, some using the misogynistic nickname "Climate Barbie," first promoted by Ezra Levant's Rebel Media.
"I've seen more than my share of personal attacks, bullying, and harassment on Twitter and other social media platforms," McKenna says in her statement, "and I take plenty of hits from people who don't like what our government is doing."
"But," she adds, "impersonation accounts deliberately try to mislead people — it's like identity theft, and it undermines our ability to have productive, informed conversations about issues that matter. I think all elected officials should take impersonation and other efforts to mislead people seriously — regardless of where on the political spectrum it shows up. We all have a responsibility to protect our democracy and make sure our political debate is grounded in the facts."
Parody accounts of Canadian politicians and other high-profile figures are hardly a new phenomenon. An account mimicking Andrew Scheer (@andrewscheercpc) during the CPC leadership race claims in its bio to have "fooled" journalists Stephen Maher and Rosemary Barton into believing it was real. Another parody account, and one of the 964 Twitter users followed by Trudeau, is Not Steve Harper (@pmoharper). (The offices of Scheer and federal NDP leader Jagmeet Singh did not reply to requests for comment for this story.)
Theatre artist Richard Feren, who created accounts parodying both former Toronto Mayor Rob Ford and his brother (now Ontario premier-designate) Doug Ford, found both of those accounts banned, writing about the earlier booting for Vice.
The @CatheMcKennna account started tweeting out posts ridiculing the environment minister this past weekend, largely portraying her as a ditz and champagne-socialist-type hypocrite. The account was popular among Canadian conservative Twitter users, amassing 2,000 followers and well over 100 retweets on certain tweets. Even Jason Kenney, leader of Alberta's United Conservative Party, joined in on making fun of McKenna.
Other individuals — largely sympathetic to or affiliated with the Liberal party — also voiced their disapproval of the parody account on Twitter, including two more PMO staffers:
But like a hydra, a few short hours after the parody account was suspended, two new ones popped up, as well as another imitating Butts.
One of the new parody McKenna accounts claims to have also been the person behind the original, sharing a screenshot of the Toronto Star's Alex Boutilier reaching out to them for a story.
That account, @CatheMckennna, has since gained over 5,500 followers in less than 24 hours, including prominent Conservatives like Doug Ford, Lisa Raitt, and third-party advertiser Ontario Proud, and is now getting conservatives rallying behind it in the name of free speech. The account holder did not respond to CANADALAND's request for an interview.
CANADALAND reported earlier this year how Twitter users were being suspended and banned for harassing Conservative Senator Denise Batters by calling her a "twatwaffle" and far worse.
Meanwhile, the Trudeau government has indicated that it hopes to counter the larger "fake news phenomenon." The Star reported this past winter that Trudeau gave Facebook COO Sheryl Sandberg an ultimatum: that the platform do a better job curbing fake news or his government would place new regulations on the social media juggernaut.
The Trudeau government, however, has yet to define exactly what counts as fake news.