Part Two
For part one, click
here
.
When teenagers at a Vancouver high school
demanded
in a November 2013 open letter/petition that the Canadian Association of Petroleum Producers stop spreading oil sands "propaganda" to their school in the form of free lesson content, CAPP was adamant: they did no such thing.
Yes, they acknowledged sponsoring Energy IQ, "an energy education resource" distributed for free online and to 13,000 classroom teachers in public schools across Canada. CAPP's involvement was clearly labelled.
But CAPP spokesperson Geraldine Anderson told the
Vancouver Sun
that the oil sands lobby group "had no control over content or development of lesson plans." She directed questions about the educational material to the people who, she said, created it – CAPP's partners at Canadian Geographic.
Another CAPP representative, Chelsie Klassen, reiterated that message to CANADALAND this week, stating that it was Canadian Geographic, not CAPP, who "created a teaching tool that provides independent and objective energy information in Canada's classrooms."
Canadian Geographic supported CAPP's story in
comments
to the Vancouver Sun (they have not responded to CANADALAND's requests). Gilles Gagnier, then the magazine's vice-president of content creation (currently its publisher) said that "Canadian Geographic maintains full editorial control of all content created for this program."
Documents obtained by CANADALAND seem to tell a different story.
The email in question appears to be sent from Canadian Geographic's "custom publishing editor" Michela Rosano in July of 2013 to a summer intern, Jimmy Thomson.  

Attached to the email are four Word documents, containing Thomson's drafts of articles for EnergyIQ's "Energy Mix Library" on four subjects: coal, crude oil, natural gas, and oil sands. The text in each is marked up in red with some words added and others struck out. The changes are attributed in the Word documents to "Rodrigues, St…".
A search of the terms "Stephen Rodrigues + CAPP" turns up a research manager by that name employed by CAPP.
While CAPP spokesperson Chelsie Klassen has not replied to CANADALAND since being confronted with the documents, CANADALAND emailed Rodrigues directly to ask if he indeed worked with Canadian Geographic to edit the text in question, a fact he quickly confirmed:

Rodrigues removed terms such as "tar sands," and "low grade form of crude" from Thomson's entry on the oil sands, and added that "oil sands production is forecasted to double by 2020," and that this sector will "play a greater role in meeting global demand."

Rodrigues also removed the term "clear-cut" from Thomson's explanation of how boreal forest is unearthed to make way for oil sands strip mining.
That CAPP was allowed to vet Canadian Geographic's educational content challenges the claim of independence and objectivity, and raises questions: is the rest of Energy IQ also edited by CAPP? What about Canadian Geographic's other sponsored educational programs?
Whether CAPP's hands-on editing means that they "control" the lesson plans or not is perhaps a matter of debate. What can be said for certain is that CAPP's changes were executed by Canadian Geographic in the resulting versions of the lessons that appear on the Energy IQ website:

"The whole thing makes me sad," says Jimmy Thomson, the former Canadian Geographic intern who is publicly credited with writing the lessons. Thomson tells CANADALAND that during his internship he mostly wrote for the magazine and blog, but did take on this one task for CG Education, the magazine's educational wing.
"The EnergyIQ thing was fucking egregious," he says. "I would call my ethics prof internship coordinator weekly and ask her, 'is this okay? Do people do this in the media?' And she would always say no. Yet it was just a part of the culture [at Canadian Geographic]. Everyone knew it was wrong but everyone had their reasons to ignore it."
Thomson's not the only former Canadian Geographic contributor to take a dim view of the educational products, which were offered to corporate sponsors on a menu of possible options.
"Sponsors could pick and choose," remembers former Canadian Geographic senior editor Alan Morantz. "They could have a cover story, a poster map, a module for the online atlas, or educational material."
According to CG Education's
website
, it offers lesson plans, quizzes, giant floor maps and online games for free to thousands of "member teachers" who use these materials to instruct students in elementary, middle, and secondary schools across the country.
Some of the keenest sponsors of these educational products, according to Morantz, have been oil companies.
"[The] energy industry certainly took advantage of the educational offerings," he says.
"The corporate partners really liked the classroom stuff, the lesson plans," recalls another former editorial employee.
"They really wanted to get into the classrooms."
UPDATE:
CAPP
 Canadian Geographic has posted a
statement
in response to our coverage.
UPDATE: CAPP has responded, calling the changes they made to lessons a "fact-check," and denying that they had control of the content. As described above, CAPP's changes to Canadian Geographic's oil sands lesson involved the removal of factual information. CANADALAND presents the full lesson at the very bottom of this post.
*****
EXTRA: Here are excerpts of other lessons offered to schools through Canadian Geographic Education in partnership with CAPP:
ANSWER: I am a pipeline.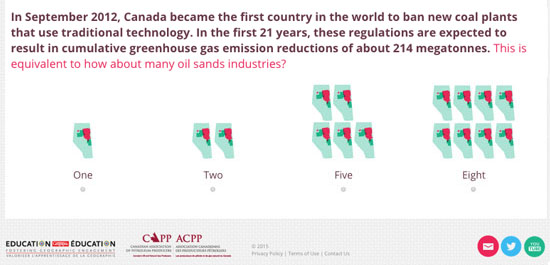 ANSWER: 5 Oil Sands Industries
********
CAPP's edit of Canadian Geographic's Oil Sands lesson (edits in red):