Journal de Montréal columnist Richard Martineau is suing the crowdfunded media outlet Ricochet for defamation over a sharply satirical fake obituary.
Ricochet says while they're confident they'll eventually win the $350,000 suit, fighting it in court could bankrupt them. "He never contacted us, he went straight to a lawsuit seeking a ridiculous, totally unreasonable amount of money. It certainly seems like the intent here is to drag us through a long legal process which he hopes will bankrupt us before a judge ever gets an opportunity to rule on the case," Ricochet co-founder and editor Ethan Cox said.
The obituary, posted in February, included a cartoon of dogs lining up to pee on Martineau's grave, and another God tossing Martineau's orphaned soul in the trash, after it's dropped off by Death for entrance to heaven. Written by Marc-André Cyr and illustrated by Alexandre Fatta, the obituary takes aim at Martineau's ideas and intelligence.
"His remains will be exhibited at the corner of St. Catherine and St. Laurent in Montreal. Rain, wind, dogs and birds will have the chance to turn those scraps into a homage of the infinite profundity of human stupidity," the obit closes.
Cox said the obituary wasn't an to wish Martineau death, but to lampoon his writing. "It was a satirical death notice, but the intent was to say that his style had jumped the shark, that his style was dead," he said.
"[Martineau] was really unhappy about it at the time, and he published a column complaining about it," Cox said. "So he used his platform to respond and that was that, and it was all done." Martineau never contacted Ricochet to request a retraction, and the only direct correspondence they got from him was the lawsuit, Cox said.
Martineau could not be reached by CANADALAND for comment. As always, if we hear back we'll update our story.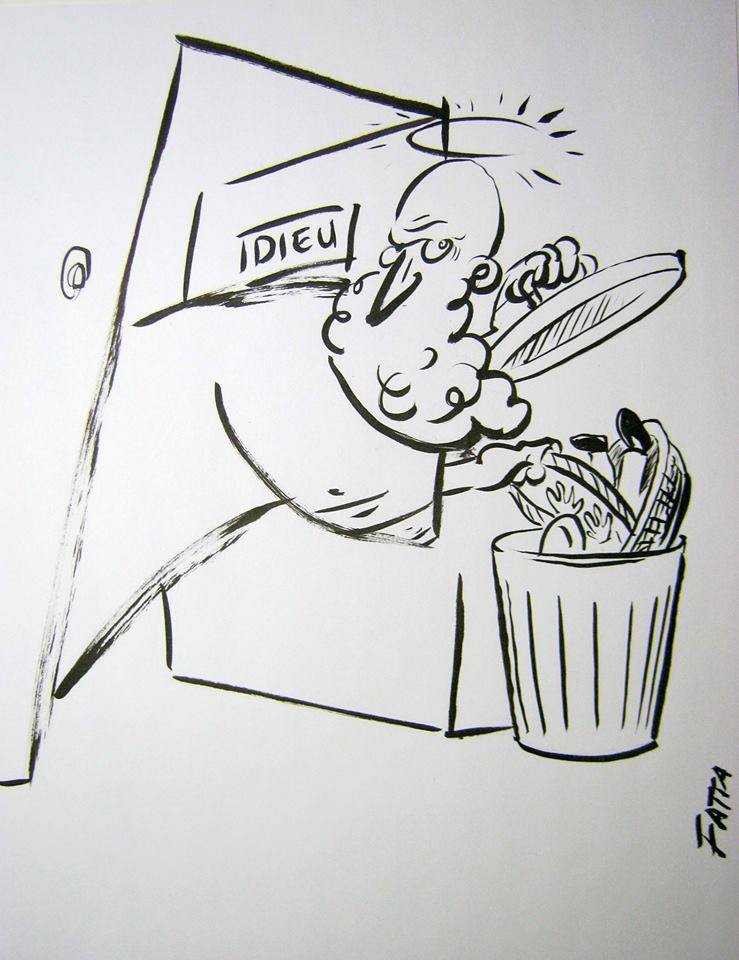 Cox said over the summer Ricochet received a notice from the Quebec Press Council a complaint had been filed about the obituary. The council said in the letter they'd dismissed the complaint and there was no ethical fault in the obit, according to Cox.
The same press council has censured Martineau for his work. "In two separate decisions upholding complaints against the columnist, the council found he had used "discriminatory words and expressions of prejudice" towards Muslims and others," a press release from Ricochet says.
In addition to writing his Journal column, Martineau hosts a program on the LCN cable news network in Quebec. Martineau was a vocal supporter of the Quebec Charter of Values, pitched by the Parti Quebecois in the last provincial election to ban government employees from wearing religious attire—including hijabs, turbans, and too-large crucifixes.
Martineau's history was all the target of Cyr's piece, which portrays him as a commentator past his usefulness. "When a person without too much intelligence is unable to respond to rational reasoning by another, they must caricature the position of their opponent by denigrating it to a level intelligible to him," Cyr wrote in French. "To do this, Richard Martineau used his essential strawmen: the 'Muslim-terrorists,'…the 'violent-unions,' the 'frustrated feminists,' the 'dictator's pressure groups.' "
Martineau has long been a free speech advocate, but not quite an absolutist. When Quebec comedian Mike Ward was ordered by to pay $35,000 to a handicapped boy featured on reality TV he joked about, Martineau supported the fine.
"You can not say you test the limits of freedom of expression, and then bawl because we told you that you have exceeded the permitted limits!" Martineau wrote. "No freedom is absolute, all rights have limits, and the law is the same for everyone." But, Martineau has also chastised the press council for reprimanding him for making up a quote he called obvious "caricature" and "satire."
Before the case goes before a judge, Ricochet is looking to crowdfund $50,000 for a legal defence fund. As of Monday afternoon, they'd raised nearly $20,000.
***
DISCLOSURE: My mother-in-law is a columnist at the Journal de Montréal and a colleague of Martineau's.