Several Calgary conservative players contributed to a failed plan to entrap Naheed Nenshi, then the mayor of Calgary, into accepting illegal Russian money. Sources involved in the plan, and leaked emails, reveal that "Operation Peacock" was an attempt by a political fixer, backed by local business interests and arranged by political strategists, which was intended to create a scandal that would lead to the removal of the mayor. The plan collapsed when Nenshi failed to take the bait.
"It was to set up a scenario in which these supposedly corrupt politicians were put in a compromising position on tape where they were accepting favours in exchange for acting as cover to wash these funds," David Wallace, the aforementioned fixer, tells Canadaland in the new investigative series Ratf*cker.
Wallace says that he first discussed the plan with Chad Hallman, a former staffer with the Alberta government. He is the son of political strategist and lobbyist Alan Hallman.
Chad Hallman confirmed that he talked about the plan with Wallace, but claims that his involvement was limited. Messages between the two men show that Hallman may have actually been a key player.
Hallman sent Canadaland his private Twitter messages with Wallace, to support his claim that the plan was not his idea. Starting in October 2018, the messages show that Wallace reached out first and suggested that he had controversial information on Mayor Nenshi.
Hallman then responded, raising the idea of paying Wallace to come up with a plan to expose the alleged corruption of the mayor. 
"There's a large group of wealthy people that have wanted to expose the mayor's corruption for a while. How can I help you do that?" Hallman wrote to Wallace, and then later said he was confident he could raise the money, adding "I'm all in on having you do this…"
Hallman asked Wallace how much it would cost for him to do the job, and Wallace responded that it would take an initial $10,000 plus expenses. Several months later, in February 2019, Hallman wrote to Wallace that, "Progress has finally been made."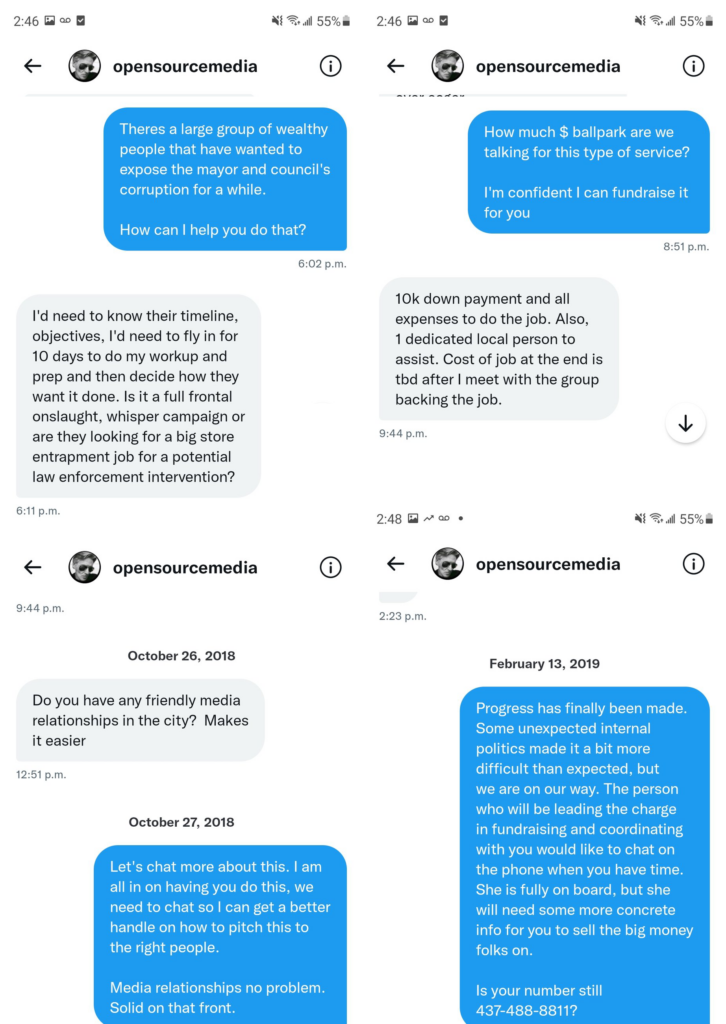 Hallman denied to Canadaland that he actually played a part in raising the money for the resulting job.
Hallman says he facilitated a connection between Wallace and Prem Singh, a conservative fundraiser and campaigner. Hallman told Canadaland that Singh approached the Wenzels, a prominent family in the Calgary real estate development business and well-known adversaries of Naheed Nenshi, for a contribution to the plan. 
"I knew that the Wenzels were part of Prem's fundraising network," Hallman says. He speculates that Singh likely convinced the Wenzels that funds were needed to hire a fixer to attempt to collect evidence on Nenshi. 
An email in Wallace's leaked communications — known as the Klondike Papers — shows that Edith Wenzel, co-owner of real estate development firm Shane Homes, and her son Shane, communicated with Singh about the plot. Edith Wenzel wrote to Singh that she met with Singh and her "unsavoury" friend three times, who she also referred to as Singh's "dark acquaintance." She wrote that although she found the "scheme" suspicious, she still contributed more money to the effort, as did her son Shane — in "an amount he couldn't afford." The price for the job, Wenzel was told, had now grown to $50,000. Wenzel wrote that she was unaware of the details of what the scheme involved, and should not be considered a partner to the plot.
Neither Edith nor Shane Wenzel has responded to our requests for comment. 
In 2013, Cal Wenzel, Edith's husband and founder of Shane Homes, met with around 100 fellow real estate developers in a private session at the Manning Centre. Wenzel pitched a plan to overhaul city council by targeting councilors loyal to Nenshi, and backing development-friendly candidates against them. Wenzel asked attendees to contribute $100,000 each. After a recording of the meeting was leaked, Wenzel denied that the money was raised to "buy a council," but instead intended to support the Manning Centre's work in training candidates for all levels of government.
Prem Singh confirms that she did take money for "Operation Peacock" from the Wenzels and gave it to David Wallace. But she says it was entirely Wallace's plan, and that she was not informed about what was really going on — only acting to connect the two parties.
Wallace claims that it was Hallman who recruited him to work with a group who believed Mayor Nenshi was corrupt and who were willing to fund an elaborate deception to prove it.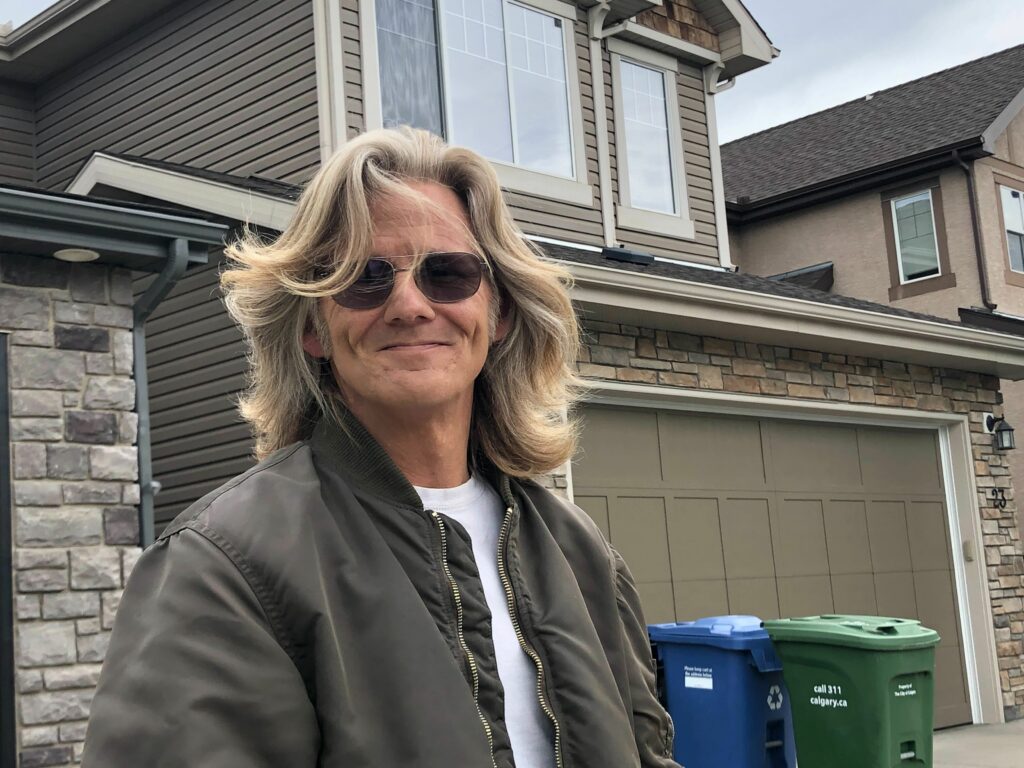 Wallace said that his plan was what's known as a "big store con," in which he presented himself to the mayor and city councillors as a representative of billions of dollars in Russian investment money. Eventually, he intended to bug rented office space with recording devices, and invite the mayor to a meeting there. He also hoped to convince the mayor and city councillors to sign a letter to the Russian Embassy in Ottawa requesting a bilateral trade agreement. Ultimately, he hoped to capture Mayor Nenshi soliciting money that would be revealed as dark funds from the list of sanctioned Russian oligarchs. He would then leak the tape to the press. 
"The goal of the operation was not to get illegal money into Canada," he says.
Gian-Carlo Carra, a Calgary city councillor and ally of then-Mayor Nenshi said that he was first approached by Wallace at a city event. According to Carra, Wallace told him he represented $40 billion in Russian investment interests, who were in search of opportunities in Calgary. Wallace asked Carra to help arrange a meeting with the mayor. Carra met with Wallace several times, gave him a tour of local investment opportunities, and took a phone meeting with a supposed Russian trade official, brokered by Wallace, which Carra found to be credible. Though skeptical at first, Carra says he came to believe that Wallace did indeed have powerful Russian connections. But he declined to arrange the requested meeting with Mayor Nenshi, and says he told Wallace to go through the proper channels.
"There are processes to follow," said Carra.
Carra also says that he was ultimately advised by a business associate that Wallace's Russian funds were likely tainted, and communicated this to Nenshi.
Wallace said he did speak to Nenshi directly, at several public events. But the mayor, he says, declined a meeting and instead directed him to the proper channels. Naheed Nenshi did not respond to our requests for comment. 
"He wouldn't bite," Wallace said. "Mayor Nenshi turned out not to want a dime."
"I would have loved for him to have been corrupt," Wallace added. "I can only set the table. It's up to them if they want to eat."