At 2:36 Monday afternoon, Toronto news station CP24 conducted a live phone interview with a man named Dave Leonard, a witness to the Yonge Street van attack.
"Contrary to what I heard earlier," Leonard said, in apparent reference to a previous CP24 interviewee who had described the suspect as white, "it appeared the man to me to be a Middle Eastern-ish man. But again, I'm not sure that's what I immediately thought."
Then he hedged further: "But I can't confirm or deny whether my observation is correct."
Also at 2:36, CBC News reporter Natasha Fatah tweeted: "#BREAKING Witness to truck ramming into pedestrians tells local Toronto TV station that the driver looked wide-eyed, angry and Middle Eastern."
Fatah's tweet garnered more than 700 retweets over the next 75 minutes, and another 700 since. (She did not respond to CANADALAND's requests to confirm whether CP24 was the channel she was live-tweeting. A CBC spokesperson also declined to clarify whether she had officially been on duty Monday.)
Just under three hours later, the suspect was identified as 25-year-old Alek Minassian, a man whose former high school and college classmates told the Globe had "no known religious or political affiliations or strong views on anything" (though a post on his Facebook page later appeared to connect him to a violently misogynist online subculture).
But Fatah's tweet appeared to be all that was necessary for many of the usual figures across both the mainstream and fringe media to seize on an implicit narrative of Islamic terrorism, one they had already seemed eager to embrace. Witnesses continued to offer conflicting physical descriptions of the suspect — including in a second tweeted by Fatah ("Another eye witness to the Yonge and Sheppard incident describes van's driver as white…") that did not travel nearly as far.
One of the first to pick up on Fatah's tweet, not surprisingly, was her father, Sun columnist Tarek Fatah, who is, to put it mildly, a severe critic of Islam:
He continued to push the "Middle Eastern" angle even after Minassian's surname — likely Armenian in origin — was reported:
Candice Malcolm, another Sun columnist with an Islam fixation, also quickly hopped on board with a tweet that has since been deleted: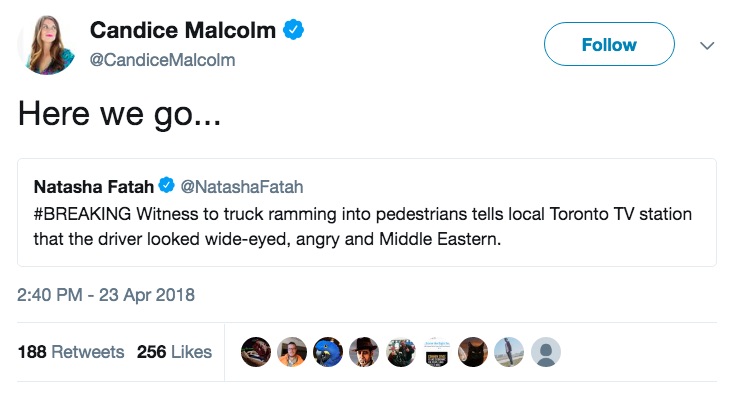 (After this post was published, Malcolm — who on Tuesday morning recorded a video to emphasize that, in terms of methods, it was "very clear this attack was inspired by ISIS" — got in touch to say that she "deleted the tweet because it was being misconstrued by leftist activists like yourself." Her comment, she says, actually "referred to the unfolding of the identity of the attacker, and the inevitable discussion about motive, whether this was terrorism, and the politicalization by lowbrow, low-circulation journalists like yourself, that inevitably comes after these types of horrific, deadly attacks.")
Former Rebel Media personality Faith Goldy, one of Canada's most prominent white nationalists, ran with the same information tweeted by Natasha Fatah, taking the narrative into the alt-right sphere:
Goldy would soon travel to the scene of the attack, broadcasting footage of orange-blanketed bodies lying on the street to her viewers on Periscope. She attended a 4:45 p.m. media briefing by police and city officials — and because they didn't take questions following their statements, Goldy trailed them to ask, "Can we be told anything at all about the suspect? Is he a Canadian citizen? Do we know if the suspect was from the Middle East?"
Laura Loomer, another alt-right Rebel alum, whose racist attempts to "cover" a vehicle attack in New York last fall got her banned by Uber and Lyft (and eventually cost her her blue checkmark) echoed the "Middle Eastern" line 37 minutes after Fatah's tweet:
Before 4:00, Breitbart had a story featuring Fatah's tweets, quoting them in the (since-updated) headline: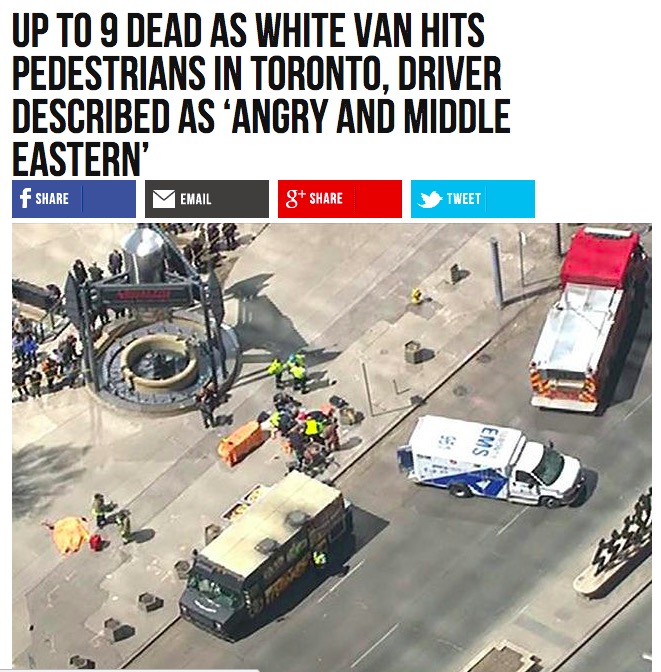 Sun editor/columnist Anthony Furey admonished people who were suggesting that it not yet be labelled a terrorist attack:
And then it made its way around to Infowars, which discussed the attack on yesterday's episode. Editor-at-large Paul Joseph Watson, a Brit with 848,000 followers, retweeted both Natasha and Tarek Fatah, and took a break from an afternoon musing about Kanye West to add his own thoughts:
Five minutes later, the Toronto Sun's Sue-Ann Levy, on vacation in Delray Beach, Florida, concurred with Watson's "jihadist" tweet, thus bringing the circle of life to a close:
Ten minutes later, CBS News broke the suspect's name.
---
The following morning, Brodie Fenlon, CBC News' senior director of daily news and bureaus, sent this memo to his staff:
In light of the fast-moving story on the Toronto van attack, a quick reminder about our [Journalistic Standards and Practices] obligations around the use of all social media:

We are consistent in our standards, no matter what the platform, in disseminating information. If we would not put the information on air or on our own website, we would not use social media to report that information.

When using social media as an information-gathering tool, we apply the same standards as those for any other source of newsgathering.

We bring these principles and values to bear in our personal use of social media as well.
---
Updated on April 24, 2018, at 10:46 p.m. EDT to add comment from Candice Malcolm. 
Updated on April 25, 2018, at 10:41 a.m. EDT to include mention of the post on Minassian's Facebook page.