Rosie DiManno, the Toronto Star's acerbic and long-serving columnist, was charged with assault this week, according to Ontario Provincial Police.
DiManno was charged Tuesday near Bancroft, Ont., according to a police press release. In its statement the OPP didn't offer any further details, saying DiManno would appear in court July 26. A call to the OPP detachment was not returned immediately. When they do, we'll update our story.
DiManno declined an interview with CANADALAND, via email. "There are children involved and I won't make the situation worse for them," she said.
Wednesday morning, Teresa Villeneuve tweeted "Toronto Star columnist Rosie DiManno charged for assaulting a mother in front of her children." Villeneuve had previously described DiManno in her tweets as "my children's aunt." But once news of the arrest spread Wednesday night, Villeneuve tweeted "My phone was stolen a couple weeks ago and I did not post the two previous posts," both of which referred to DiManno's arrest. Both posts soon disappeared.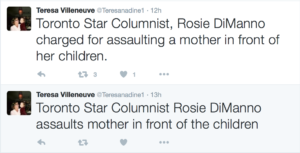 On Twitter, DiManno herself seemed unfazed. "oh I'm still a cool broad. And I will always defend kids," she said to one user. "I'm fine, thanks. Children need defending. Can't just allow abuse," she said when asked if she was OK by Toronto radio personality Mike Bullard. "And the truth will out," she replied to another user, when asked about her impending court date.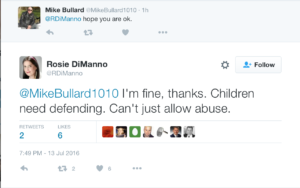 The long-time sports and crime columnist isn't one to shy away from controversy. Famously, DiManno told Toronto Sun columnist Joe Warmington last month "How fucking dare you? Come here and say that. I'll rip your fucking throat out," when Warmington questioned whether she cared about the suicide death of her colleague.
***