A small religious sect, described as a "cult" by some former members, is linked to millions in Conservative government contracts for PPE. The Plymouth Brethren Christian Church is also linked to a national media campaign in favour of the federal Conservatives, and to a manhunt for a former Church member turned whistleblower, which was coordinated by high-profile Conservative lawyer Gerald Chipeur.
The Plymouth Brethren Christian Church (PBCC), with about 50,000 followers worldwide, calls itself non-partisan and says its members do not vote.  A spokesperson denies the Church has any involvement with political activities, and the PBCC denies that they are centrally organized in any way.
But the PBCC lists on its website a company called Universal Business Team (UBT) as a part of the Church's global "network." UBT calls itself a "consulting organization" that connects thousands of other businesses owned and operated by PBCC members, many of whom have senior religious roles within PBCC communities. UBT says it helps member businesses "negotiate better offers and reviews."
PBCC spokesperson Merrick Grimshaw tells us that Church members' companies are "under no obligation" to join UBT and that "they are able to do business with whomever they choose." They also tell us that the Church has no legal, financial or any other interest in its members' businesses. 
In Canada, PBCC-owned businesses have received millions in procurement contracts from Conservative governments. Leaked documents from the Klondike Papers also show that a high-profile Conservative lawyer, Gerald Chipeur of Miller Thomson LLP,  collaborated with one of the winners of these contracts, and with other members of the church, to find an anti-PBCC whistleblower, Richard Marsh, who had gone into hiding. 
Plymouth Brethren members are also under investigation by the RCMP in Saskatchewan for historical sexual abuse of minors, as detailed in a previous Canadaland story. Former members of the church have also spoken out about experiences of psychological abuse and harassment.
The Church spokesperson says that the PBCC has not been contacted by the RCMP about these allegations and that the Church does not tolerate sexual abuse. 
Millions in COVID-19 contracts linked to Plymouth Brethren members
Many members of the Brethren own businesses, and during the COVID-19 pandemic several of those businesses received millions in contracts for PPE and other medical supplies from Conservative provincial governments.
A PressProgress investigation found that in 2020, four Brethren-linked companies received a total of $49.8 million in emergency contracts for PPE and other medical equipment from the province of Manitoba, representing a total of 12.5% of that province's initial COVID-19 emergency budget.
Two of those contracts, worth approximately $70,000 went to the BC-based company Klondike Lubricants, which manufactures industrial oil products, and which seems to have had nothing to do with personal protective equipment before the global pandemic. The company's founders, Phil Jenner and Brad Mitchell, are Brethren members and are active in PBCC-related organizations.
In May 2020, Klondike Lubricants was also awarded $1.94 million in PPE contracts from Doug Ford's Progressive Conservative government in Ontario.
Mitchell is also a Canadian director of Ox Tools, whose CEO is Dean Hales, the son of Bruce Hales, the PBCC's "most senior leader." 
Mitchell is also listed as a director of Universal Business Team. 
And Mitchell has been linked to high-profile Conservative politicians – in archival footage from 2011, Mitchell is seen sitting with other known Brethren members in the front row at Stephen Harper's victory speech after Harper won the federal election. 
Another company headed by a member of the PBCC, Tillsonburg Tube Inc., received a business grant of $300, 000 from the Ford government in 2022.
Other PBCC-owned businesses around the world have also received controversial contracts from Conservative governments to supply PPE. A Times of London investigation in February 2022 revealed that over 3 billion dollars CAD in contracts for PPE and other medical equipment were awarded by Boris Johnson's British government to dozens of companies connected to the PBCC. Other companies were not given a chance to bid for these contracts, and Britain's Health & Safety Executive later declared some of the PPE they procured to be substandard.
Both Universal Business Team and Ox Tools were on the Canadian Importers Database list of major PPE importers to Canada for 2020
Political Activity
The followers of the Plymouth Brethren Christian Church have also been linked to two major  political campaigns in Canada.
In 2005, paid messages against same sex marriage appeared in several major Canadian newspapers, and thousands of letters were sent to MPs.
Richard Marsh, a PBCC whistleblower, tells Canadaland that when he was still part of the Brethren he was personally involved in that campaign.
"All the Brethren across Canada were pulled into basically bombing every MP with thousands and thousands of thousands of letters about gay marriage," he says.
The Vancouver Sun found that a Brethren member placed the newspaper ads, but that member said he did so on behalf of himself and other members, and denied that the Church itself was involved. 
Earlier in 2004, a campaign promoting George W. Bush in the U.S. was found to also be supported by members of the PBCC. 
According to its website, the Plymouth Brethren Christian Church has never made a donation to any political party. 
In 2019, another set of ads appeared in Canadian newspapers, including one on the front page of the National Post and a two-page spread in the Globe and Mail. The ads proclaimed "Justin Trudeau is the ultimate hypocrite" and asked readers to vote against him, urging readers to use the hashtag #ultimatehypocrite.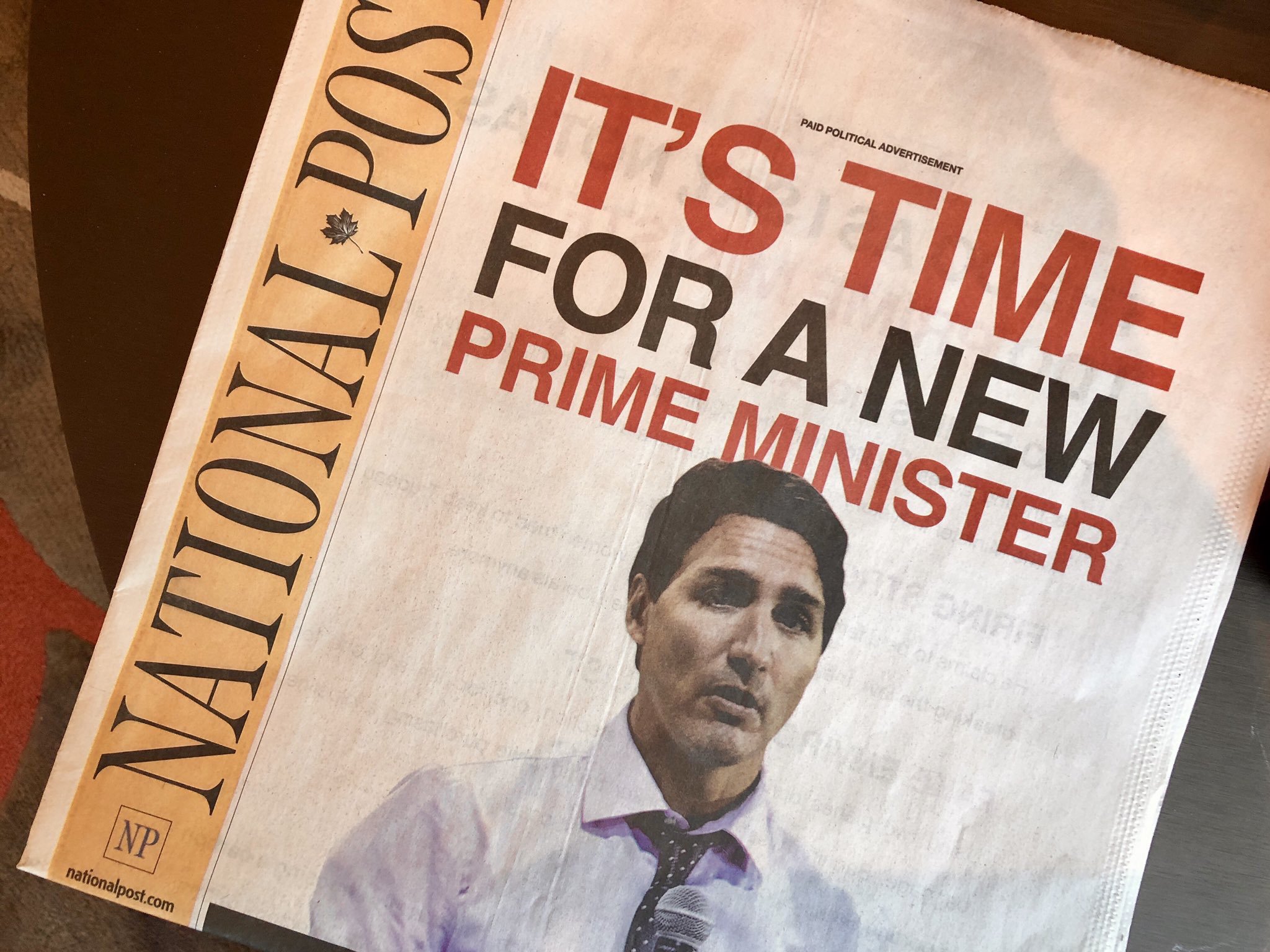 The campaign was attributed to the previously unknown third party advertiser Canada Growth Council. PressProgress found that nearly $40,000 worth of donations to Canada Growth Council, came from thirteen people connected to the PBCC. 
There are multiple connections between members of the PBCC and Calgary lawyer Gerald Chipeur. 
Chipeur has been active for many years in Conservative circles and was a founding member of the "unite the right" movement that merged the Reform Party and the Progressive Conservatives in 2003. He was general counsel for the resulting Conservative party of Canada, and lawyer for Stephen Harper.
Chipeur is not a member of the PBCC, but has acted as their lawyer for many years, according to journalist Marci McDonald, author of The Armageddon Factor: The Rise of Christian Nationalism in Canada. Chipeur has previously been involved with several cases involving religious freedom. 
Chipeur is connected to PBCC member Brad Mitchell – according to 2006 federal records, Chipeur was listed as a lobbyist for Westec Distributors, now called Klondike Lubricants.
Coordination of efforts to find former Brethren member
Canadaland has obtained emails in which Gerald Chipeur appears to coordinate with two Brethren members on a campaign to  locate former PBCC member Richard Marsh. 
The two members were Brad Mitchell and Rod Diplock. Diplock is listed as a director of the Plymouth Brethren Christian Church's U.S. entity, a registered nonprofit. He is also a listed director of Universal Business Team. The search was conducted, in part, by former political fixer David Wallace, who records appear to show being paid $21,000 by yet another PBCC-connected company (Tillsonburg Tube), a company seemingly unconnected to Mitchell or Diplock. 
Tillsonburg Tube Inc. has not responded to our request for comment. 
Before he was excommunicated from the PBCC, Marsh worked for Specialist Hygiene Solutions Limited, now called Inivos Limited, which is directed by PBCC member Warrick Fentiman. Marsh published claims that the company was committing fraud by misrepresenting the effectiveness of its products, as well as negative claims about Fentiman. 
Marsh was sued by the company and by Fentiman. He lost the case, and settled the suit on the terms that he would not repeat his allegations. Marsh broke those terms, and was convicted of contempt of court. He did not pay the debts and instead fled to Canada. 
Fentiman confirmed to Canadaland that Wallace was retained to find Marsh, but did not answer questions about who retained him. He said that he simply wanted Marsh's address, so that he could be served with legal papers, to comply with his legal obligations. 
In the leaked emails, Chipeur appears to keep Wallace and Mitchell updated on the search, and sends Wallace what appears to be a private investigator's report on the whereabouts of Marsh and his wife. In another message, Mitchell sends what appears to be a log of phone calls placed to and from Marsh's wife.
Alan Hallman, once a top advisor to former Alberta premier Jason Kenney, confirmed to Canadaland that he was hired by "the Brethren" to act as a go-between, coordinating efforts between his friend Gerald Chipeur and Chipeur's clients on the one side, and political fixer David Wallace on the other, who was retained to find Marsh. 
In an email thread, Chipeur, Mitchell, Diplock, and Wallace planned to meet on a Zoom call to discuss the ongoing search for Marsh. 
It is not clear why any of these men were involved in the search, given that none of them have any known connection to Warrick Fentiman or to Inivos Inc, the offended parties in the U.K. judgements against Marsh.
Canadaland has received no response to multiple requests for comment sent to Gerald Chipeur.